The Federal Reserve Will Hold Monetary Policy Steady for 'Some Time'… The bankers noted that the economy is rebounding faster than expected and inflation will likely top the 2% target this year, but they intend to stay the course with zero short-term rates and their $120-billion-per-month bond-buying program.
What it means— The central bankers are holding up their collective crazy card; it's our job to see it. As previously  mentioned, Powell clearly shifted gears from worrying equally about growth, inflation, and unemployment to prioritizing unemployment. And it's not just any unemployment: he echoes the Biden administration's focus on minority unemployment.
In its statement, the Fed wrote that the economy "was far  from achieving the Fed's broad-based and inclusive goal of maximum employment." We should take from this that the Fed will let the economy run faster, with inflation running hotter, as it pursues the goal of maximum  inflation across the economic and racial spectrum. Get ready for higher prices.
Initial Jobless Claims Creep Higher – Up from 728,000 to 744,000…The  number of people filing for jobless claims for the first time remains above the record high from before the pandemic.
What it means— The claims are elevated while businesses reopen and hunt for workers. The disconnect appears to be structural unemployment, where the workers available don't match the job openings because of geography, training, or other factors. If this is the case, unemployment can remain elevated even as businesses pay higher wages to attract qualified local workers. This results in higher consumer prices and stubborn unemployment.
Work from home was a temporary solution for staffing when the pandemic hit last year – Trying to minimize rent costs in high rise metro office buildings, desks were crammed into as little space as possible. Remote work seemed increasingly doable.
What it means – Temporary was not intended to be a year much less permanent. Free from the need to commute, many employees left not just the city, but their states, for greener, less expensive per square foot digs. Now that vaccination progress is causing states to re-open businesses, employers are rethinking remote employment regardless of employees embracing remote arrangements.
A larger problem persists for employees facing permanent lay-off versus temporary. As much as half of small businesses are not re-opening meaning permanent job loss may be a very long time.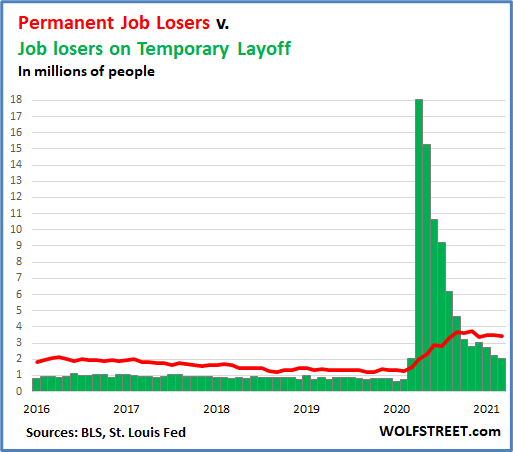 New York State to Give $2.1 Billion to Illegal Immigrants, Up to $15,600 per Person… The New York State Assembly included a provision  in the latest budget that essentially mimics federal relief spending in terms of stimulus checks and unemployment benefits, but the funds are aimed at illegal immigrants who did not qualify under the federal programs.
What it means— The word fungible comes to mind. The Biden American  Rescue Plan allocates $13 billion to the State of New York. Without that money, it's questionable whether the assembly would be so generous. Apparently no one is asking "why not help the citizens of New York?"
While the assembly members didn't specifically lay out that they are using  federal funds to finance their relief spending for illegal immigrants, they don't have to. Dollars are fungible, or interchangeable, so federal funding for anything gives the state more room to spend other funds on whatever priority it wants.
Tenants Along Fifth Avenue in New York City Owe Landlords Roughly $200 Million in Unpaid Rent… Well-known groups such as the MBA and  Valentino are suing their landlords for redress after they were required to shut down due to the pandemic while workers and residents left town and tourists stayed away.
What it means— Someone's going to lose. Will it be leveraged landlords who must make their mortgage payments or tenants with no income who might be forced to make good on their leases? It could be either, or a combination. And a third player also will take a hit, New York City. With commercial rents in freefall, property values will follow, which will take a bite out of tax revenue for years to come. Let's hope the millionaires and billionaires who will be forced through higher taxes to pick up the tab don't decide to take their marbles to Florida.
Ivy League Schools Report Record Applications and Record Low Acceptance Rates… Harvard received more than 57,000 applications and  accepted just 3.4%, the lowest acceptance rate on record. Applications surged 43% over last year's total. Yale received almost 47,000 applications and accepted 4.6%. Columbia received 60,551 applications and admitted just 3.7%. It's not that so many more kids qualify  for such schools, it's that their individual chances of getting in improved because the universities ditched the objective SAT scores this year. The move frees up the schools to use their "holistic" approaches to admit whomever they want without having to justify that they are accepting kids with SAT scores 200 or 300 points lower than kids they've pass over.
Social engineering has come full circle, resurfacing at a place that once worked to snuff it out. The SAT was first introduced in higher education in  the 1930s as a way of identifying gifted kids outside of Eastern Seaboard prep schools. Students who did well were granted academic scholarships… to Harvard.
Data supplied by HS Dent Research
"When the facts change, I change my mind.
What do you do?" ~ John Maynard Keynes
Our plan is "the plan will change."
What is your plan?
Relative strength measures the price performance of a stock against a market average, a selected universe of stocks or a single alternative holding. Relative strength improves if it rises faster in an uptrend, or falls less in a downtrend. It is easily applied to individual positions in your portfolio and to sectors and asset classes.
A copy of our form ADV Part 2 is available online.
Investor Resources, Inc. only transacts business in states where it is properly registered or notice filed, or excluded or exempted from registration requirements. Follow-up and individualized responses that involve either the effecting or attempting to effect transactions in securities, or the rendering of personalized investment advice for compensation, as the case may be, will not be made absent compliance with state investment adviser and investment adviser representative registration requirements, or an applicable exemption or exclusion.