Consumer Prices Jump 0.8% in November, Up 6.8% Over Last Year…Inflation reached a 40-year high last month as prices rose for almost everything.
What it means—You know things are weird when inflation reaches almost 7% and investors send the markets higher. The general consensus is that it could have been worse. Core inflation, less food and energy, rose 0.5% and climbed 4.9% over the last year, the highest rate in 30 years. Prices rose in every single major category, with gasoline prices up 6.1% and used car prices up 2.5%.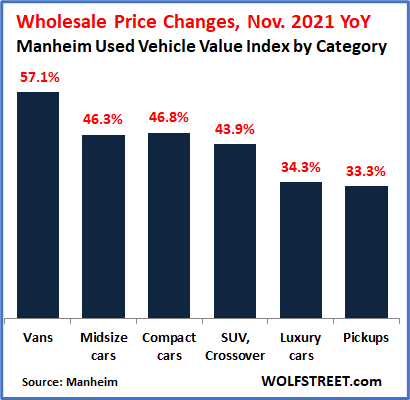 The thing to watch is shelter, where prices rose 0.5% for the month and are now up 3.8% for the year. This category is about 30% of the index and likely will march higher next year as other prices ease. Unfortunately for workers, high inflation is eating up their recent wage gains, pushing real wage changes into negative territory for the eighth consecutive month. That's not much of a Christmas gift. Investors cheered the report by sending 2-year Treasury bond yields a bit lower on the lower possibility of two rate hikes next year.
Omicron Might Not Be So Bad… South African health officials report high positive tests for COVID, assumed to be the omicron variant, but without spiking hospitalization rates.
What it means—Investors breathed a sigh of relief and sent the markets higher as news spread that omicron might be more transmissible but less severe than the delta variant. Some health professionals are pointing out that this is how viruses move from pandemic to endemic, just as the Spanish flu of 1918 became just the flu as strains became less severe and we built up immunity. That would be welcome news, indeed.
Bitcoin Battered as Cryptocurrencies Fall… Bitcoin flash-crashed last weekend, dropping from near $60,000 to $42,000. The digital dollar rebounded but continues to show weakness.
What it means—There was no obvious reason for the ugly action in cryptocurrencies. Anecdotally, investors in mid-November were calling for Bitcoin to reach $100,000 this year and the cryptocurrency marched higher on steady buying. That could've set up the asset class for a fall as too many buyers piled in over a short period of time, leaving a dearth of buyers in their wake. As selling accelerated, it appeared that 200,000 accounts or so were liquidated for margin calls, which only makes the selling worse. Who knows?
With investment managers adding cryptocurrencies as an asset class to their mix, we're likely to see Bitcoin, Ether, and others rebound in the months and year ahead.
Job Openings, Layoffs, and Turnover Survey (JOLTS) Showed 4.2 Million Americans Quit Their Jobs in October… It was the second-largest number of people quitting in history.
What it means—It's official, we're a nation of quitters. But not in a bad way. The high numbers show that workers either are finding new jobs or are very confident that they will find new jobs, which makes sense considering that we have 11 million job openings and only 6.7 million people unemployed. This is being referred to as The Great Resignation which is occurring predominantly in lower wage categories. The quitters are sitting at home waiting for another government handout but doing what they can to improve their lives.
The labor shortage is driving up wages, which eventually shows up as higher prices. Retailers must charge more to cover their higher costs, but they also enjoy a bit of pricing power because consumers, who are also workers, have more money to buy stuff. Unfortunately, prices tend to rise faster than wages, which leaves workers with a lower standard of living.
Cleveland Clinic Study Shows Sildenafil (Viagra) Effective Against Alzheimer's Disease… A research team led by Feixiong Cheng, Ph.D. reviewed data on more than seven million patients and determined that sildenafil is associated with a 69% drop in the incidence of Alzheimer's disease. The researchers noted that they need follow-up clinical testing of the drug's efficacy. It's likely they won't have any trouble finding volunteers  for the study. For anyone snickering about the effects of the drug, remember that it was originally developed for hypertension and chest pain related to heart disease, the sexual effect was an unexpected bonus.
Data supplied by HS Dent Research
"When the facts change, I change my mind.
What do you do?" ~ John Maynard Keynes
Our plan is "the plan will change."
What is your plan?
Relative strength measures the price performance of a stock against a market average, a selected universe of stocks or a single alternative holding. Relative strength improves if it rises faster in an uptrend, or falls less in a downtrend. It is easily applied to individual positions in your portfolio and to sectors and asset classes.
A copy of our form ADV Part 2 is available online.
Investor Resources, Inc. only transacts business in states where it is properly registered or notice filed, or excluded or exempted from registration requirements. Follow-up and individualized responses that involve either the effecting or attempting to effect transactions in securities, or the rendering of personalized investment advice for compensation, as the case may be, will not be made absent compliance with state investment adviser and investment adviser representative registration requirements, or an applicable exemption or exclusion.