Trump Threatens To Veto Stimulus Bill… Congress took almost six months to develop and agree to a new round of stimulus spending. President Trump put it in jeopardy in four minutes.
What it means— The Republicans and Democrats finally came to an agreement on a new round of stimulus spending, including more money for the payroll protection program, weekly $300 federal unemployment bonus checks for 11 weeks, and $600 direct payments. President Trump criticized the bill in a late-night tweet and video and threatened to veto the measure.
He called the bill too cheap and said that direct payments should be $2,000. But it's late in the game to redo the bill, and the stimulus measures are part of the omnibus spending bill that keeps the government funded. By threatening to veto the entire bill, Trump threw a wrench into government operations as well as the stimulus.
Investors weren't impressed, but this will be short-lived. If Trump sticks to his guns, then a stimulus bill will be the first thing Biden signs when he takes office in four weeks.
Existing Home Sales Take a Breather, Down 2.5% in November… Existing home sales might have eased a bit for the month, but they are still almost 26% higher than they were last year at this time.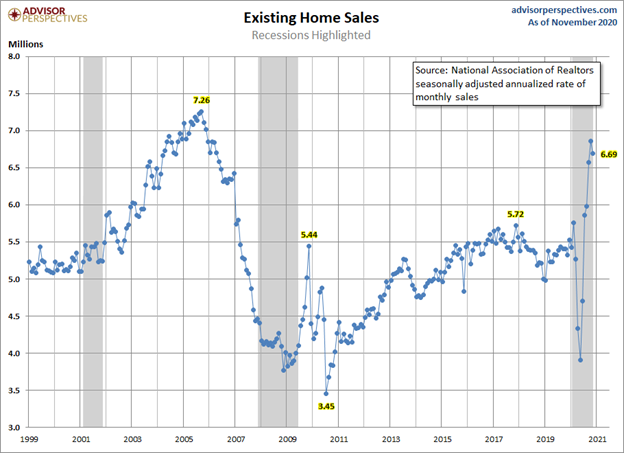 What it means— The blistering pace of home sales reached a 15-year high and drove inventory to record lows, with just a 2.3 months' supply available. The combination of more sales and less inventory drove prices higher, with the median home sale price reaching $310,800, up 14.6% from this time last year. It will be interesting to see if home sales turn lower as the economy reopens next year or if the trend will continue as companies and employees settle into their new work-from-home routine. and employees settle into their new work-from-home routine.
New Home Sales Fell 11% During November… New home sales were expected to increase by about 5%, but instead took a step back.
What it means— Like existing home sales, new home sales are still way higher than last year, up almost 21%. The big drop in sales led to rising inventory, up 14% over October, but there's still just 4.1 months' supply.
The median sales price of a new home, $335,300, fell a bit from October to November but remains 5% higher than this time last year. Some people are wondering if buyers are becoming cautious as prices move higher. Maybe. But new home sales numbers are notoriously volatile and seasonal. It will take a few months' worth of data before we can make such a call.
Thinking of real estate in terms of residential housing gains is a potential mistake for investors. Personal investment portfolios, IRAs and 401k accounts often include an allocation to real estate. But it isn't invested in your family home. It is in retail malls, commercial towers, warehouses and, often, related mortgages. The new work-from-home paradigm is causing rents and values to drop dangerously low. Expect several years of defaults, foreclosures and bankruptcies while properties get marked down to the new normal.
Durable Goods Orders Rose 0.9% in November… The gain marked the seventh consecutive increase; it was higher than the expected 0.3% but was half of the 1.8% gain in October.
What it means— Orders for transportation equipment rose 1.8%, which is good, but core capital goods, or orders excluding aircraft and defense, rose just 0.4%. This shows that business spending is easing a bit as the new round of economic lockdowns takes hold. It's all about getting through the first quarter. If we can get a stimulus bill passed, then we should have enough economic support to get through March, at which point the economy should be on the path to reopening, as more people get vaccinated and as therapeutics for COVID-19 hit the market.
Social Security Counts Six Million Active Numbers for People 112 Years Old and Older, Even Though Only 40 People Worldwide Are Known to Be That Old… Watchdog organization www.Openthebooks.com recently published a report on government waste that included the statistic above.
What it means— The group counted $175 billion in improper payments by the 20 largest federal agencies last year with a 15-year total of $2.3 trillion.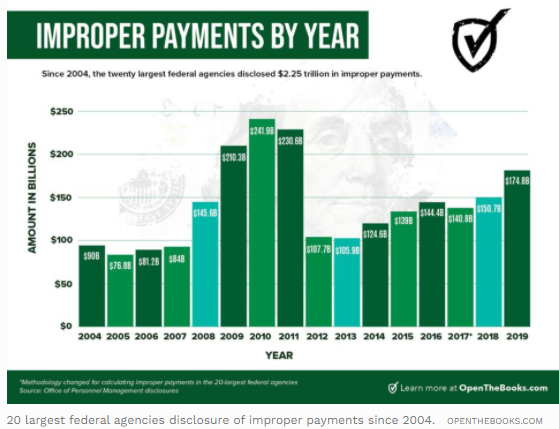 At a time when we're looking for cash to send to Americans who are out of work and at risk of losing their housing, it might seem reasonable that rooting out improper payments would be a priority. Unfortunately, that doesn't seem to be the case. It isn't likely to change until Congress resumes its oversight responsibility.