The U.S. Economy Added 245,000 Jobs in November, Just Over Half of the Expected 432,000… The unemployment rate dipped from 6.9% to 6.7%.
What it means— The slightly lower unemployment rate had more to do with 400,000 people dropping out of the labor force than the job gains. The labor force participation rate is back near 70-year lows, as parents stay home to help their kids with education and family members take care of ailing relatives. At least this month, at just 6,000 additional jobs, the birth/death adjustment didn't skew the numbers.
Retailers were hardest hit, which is no surprise considering the increased lockdowns. With COVID-19 cases spreading and more lockdowns on the way, look for employment to take another hit in January.
The year-to-date change in payrolls is trending upward, but normalization is likely to take years.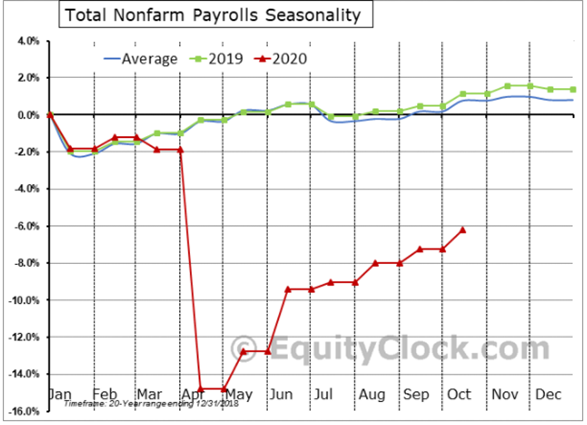 This might seem like a bad omen for the equity markets, but investors are looking past almost everything to a potential stimulus deal.
Democrats Support a Bipartisan $908 Billion Stimulus Plan… House Speaker Pelosi and Senate Minority Leader Chuck Schumer support the plan, although Senate Majority Leader Mitch McConnell isn't yet on board.
What it means— Well, $908 billion is a long way from the last Democratic line in the sand, $2.4 trillion, but it's also more than double what Mitch McConnell claims to support. The Democrats say they now support the proposal because they want to pass relief before year end, when many programs, including unemployment benefits and mortgage deferrals, run out. They also say that this will simply be another step in the recovery, and more bills will be offered after the new administration is sworn in on January 20.
Investors took the news in stride; they've heard it before. Any stimulus that doesn't include extra cash for cities and states will be considered "skinny" and isn't likely to drive the markets higher.
Black Friday Became Bleak Friday, As Sales Dropped 20%… Online sales jumped more than 20%, even as foot traffic in retail outlets dropped more than 50%.
What it means— It was a tale of two shoppers, one online and one in person. On the plus side, consumers found a way to scratch their shopping itch by logging in, and we didn't have to watch those cringe-worthy images of moms fist fighting over the last, must-have toy of the season or have to see old people trampled by crowds clamoring for doorbuster deals.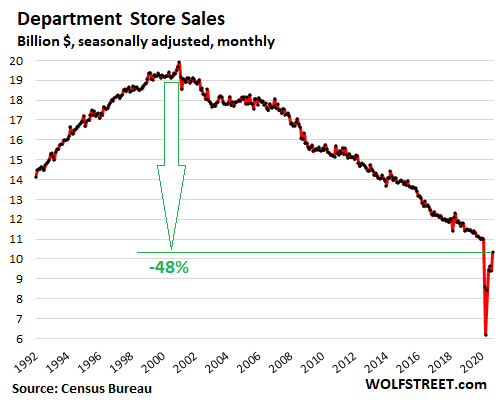 But it's still not good news for physical store owners, who were left tending very quiet locations by Friday afternoon. Holiday sales might end up matching last year's figures, but with so much commerce moving online, it's hard to see how many physical stores will remain in business. This will lead to a gut-wrenching dislocation in how we use and value commercial real estate.
This is a two-decade problem that started with the tech bubble's broad introduction of on-line shopping. In order to keep anchors open, mall operators are buying up bankrupt tenants to maintain sales to maintain rent payments. In some cases, even Simon Property has opted for jingle mail with Kansas City's Independence Mall which sold at foreclosure for a quarter of the mortgage balance.
New York Pub Declares Autonomous Zone, Manager Gets Arrested …
A year ago, Keith McAlarney sunk his life's savings into Mac's Public House, a bar on Staten Island. Then COVID-19 hit, and the state restricted bars to 25% capacity. His zip code was deemed a coronavirus code orange zone, and the city banned all inside dining.
McAlarney and his bar manager Danny Presti resisted. They continued to serve patrons, declaring the bar an autonomous zone. And when the state revoked their liquor license, they made everything free, while requesting donations. Officials weren't amused. Sheriff's deputies entered Mac's and requested food and drinks. After forking over a $40 donation, they were served and promptly began issuing citations. They then arrested Presti for obstructing governmental administration.
"Governmental administration" must not be popular on Staten Island. Bargoers packed the establishment Friday night in support of the owners.
Data supplied by HS Dent Research
"When the facts change, I change my mind.
What do you do, sir?" ~ John Maynard Keynes
Our plan is "the plan will change."
What is your plan?
Relative strength measures the price performance of a stock against a market average, a selected universe of stocks or a single alternative holding. Relative strength improves if it rises faster in an uptrend, or falls less in a downtrend. It is easily applied to individual positions in your portfolio and to sectors and asset classes.
A copy of our form ADV Part 2 is available online.
Investor Resources, Inc. only transacts business in states where it is properly registered or notice filed, or excluded or exempted from registration requirements. Follow-up and individualized responses that involve either the effecting or attempting to effect transactions in securities, or the rendering of personalized investment advice for compensation, as the case may be, will not be made absent compliance with state investment adviser and investment adviser representative registration requirements, or an applicable exemption or exclusion.