Oil Prices Push Inflation Up 0.3% in January… Even with the gains last month, annual inflation remained steady at 1.4%.
What it means— The cost of gasoline shot up 7.4% last month, as energy prices continued to climb. Food costs also moved up, but just by 0.1%. Excluding food and energy, prices were flat last month and, like the headline number, were up 1.4% over this time last year. Even though prices remain tame, investors appear to expect government spending here and around the world to drive prices higher in the months and years ahead. Our Macro Allocation table continues indicating rising inflationary pressures represented by the iShares S&P GSCI Commodity Index.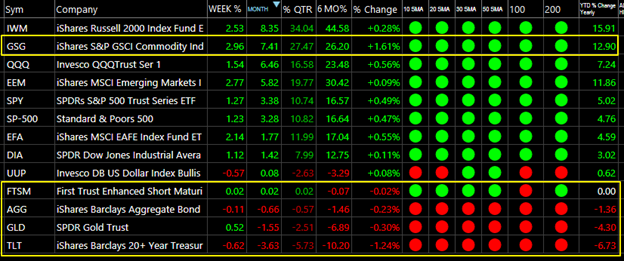 Bond yields ticked higher in the days before the CPI figures were released, but then turned downward again after the numbers came out. Our investment process avoids assets ranked below the FTSM cash benchmark which currently includes corporate and government bonds.
Seeking anything that will pay interest, companies that should be preparing for bankruptcy can still borrow money in the junk bond market at historically low rates. The "high yield" market closed last week at 4.09%. Believing there is no risk here is irrational.
Initial Jobless Claims Remain Elevated at 793,000… The number of people filing for unemployment benefits for the first time dipped from 812,000 but were still above the forecast of 760,000.
What it means— We don't have to beat this one up too much. With unemployment above 6% and more people dropping out of the labor force, it's not good news that almost 800,000 people filed for first-time benefits. We're not out of the woods, because our economy isn't open; it's that simple. Until we make enough progress curbing the pandemic that government officials are comfortable lifting economic restrictions, we can expect continued employment problems.
North Dakota Oil Prices Climb as Producers Worry About Pipeline… Producers in the North Dakota Bakken Shale region are concerned that the Dakota Access Pipeline will shut down.
What it means— A federal judge ruled last year that the U.S. Army Corps of Engineers had not required an adequate environmental impact study for the Dakota Access Pipeline, and therefore it was to be emptied and shut down.
The owners were able to get a stay of that order, but no one knows how long the stay will remain in effect. If the order stands, then the region will lose the main artery available for moving oil from the region and will have to rely on trucks and rail. The controversy and uncertainty have driven up prices, which has added to higher prices around the world. The Administration's policies are contributing to broader commodity inflation which is showing up in food and fuel.
Biden Administration Includes National $15 Minimum Wage in $1.9 Trillion Relief Package… If approved, the increase would occur over several years and would more than double the current $7.25 national minimum wage.
What it means— Most states set their minimum wage above the national average, so this won't be an issue until the gradually rising wage surpasses those state minimums. The CBO estimates that such a change would lift 900,000 people out of poverty, but it would also eliminate 1.4 million jobs.
Look no further than the slimmest of margin grocery business. Long Beach, California recently passed as wage increase to $14.00. Facing operating losses, Kroger closed several of its stores leaving a void in readily available food and consumer staples.
For business owners, it's likely to be a huge incentive to modernize and automate their processes, to eliminate as much traininglevel and low-end labor as possible.
The pace at which millions of Boomers are retiring over the next decade is accelerating. The U.S. economy will easily have enough jobs for workers displaced by automated order kiosks at McDonald's.
The question is, will those displaced workers have the education required to fill the vacancies? If we are not matching our education standards to entry-level employment standards, we'll end up with a quasi-permanent class of unemployed adults, which will hold back the economy rather than move it forward.
Biden Administration Says Majority of Schools Will Be Declared Reopened When More Than 50% Hold at Least One Class a Week… This sounds like one of those math word problems from the fifth grade. If Johnny's principal declares school open only on Mondays but Suzy's principal holds class only over Zoom, then what percentage of school is taking place in person for the two students combined?
If 50% of schools hold class one out of five days, or 20% of the time, then in-school learning is taking place just 10% of the time. That seems like a long way from a "majority of schools reopened."
President Biden promised that he would work with schools so that a majority were open within his first 100 days in office. He likely overestimated the support or underestimated the pushback he'd get from teachers' unions. From San Francisco to Chicago, unions have pushed back on meeting in class, and Biden's call for in-person learning hasn't changed that. Given the documented decline in learning over Zoom, we'd better find a way to get kids and teachers back in the classroom quickly.
Covid-19 Tracker for 2/11/2021
Data supplied by HS Dent Research
"When the facts change, I change my mind.
What do you do, sir?" ~ John Maynard Keynes
Our plan is "the plan will change."
What is your plan?
Relative strength measures the price performance of a stock against a market average, a selected universe of stocks or a single alternative holding. Relative strength improves if it rises faster in an uptrend, or falls less in a downtrend. It is easily applied to individual positions in your portfolio and to sectors and asset classes.
A copy of our form ADV Part 2 is available online.
Investor Resources, Inc. only transacts business in states where it is properly registered or notice filed, or excluded or exempted from registration requirements. Follow-up and individualized responses that involve either the effecting or attempting to effect transactions in securities, or the rendering of personalized investment advice for compensation, as the case may be, will not be made absent compliance with state investment adviser and investment adviser representative registration requirements, or an applicable exemption or exclusion.