The U.S. Economy Created 49,000 Jobs in January… The modest gains were very close to the expected gains of 55,000 jobs.
What it means— The unemployment rate dropped 0.4%, from 6.7% to 6.3%. While that drop implies that the economy added 640,000 jobs, the decline reflects fewer people either working or looking for work. The labor force participation rate fell from 63.3% in February of last year to 61.4% in January of this year. That's not great news.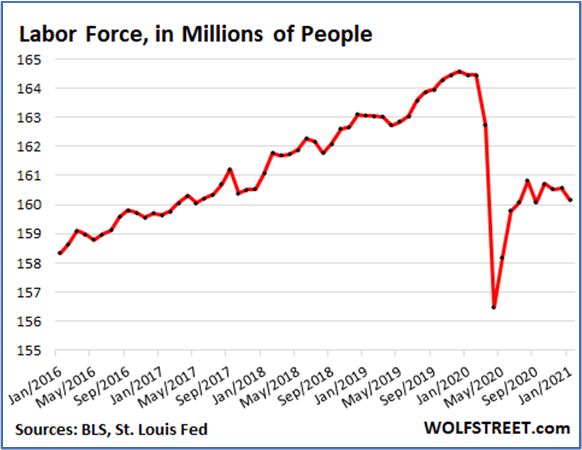 Expect the weak jobs growth and unemployment figures to be front and center, as the Biden administration has pushed for the full $1.9 trillion relief package.
Congressional Budget Office Estimates U.S. GDP Will Grow 4.6% in 2021… The CBO forecast is strong for this year after the economy fell 3.5% in 2020.
What it means— If the U.S. economy expands by 4.6%, then our two-year growth will be about 1%, or an average of 0.5% per year. That's ugly. To make it worse, that growth will have cost us more than $3 trillion in additional government spending and $4 trillion in dollars newly printed by the Fed. Under current law, the CBO expects GDP growth to ease to 1.7% by 2026 and stay there.
This forecast does not include the $1.9 trillion relief package which is facing opposition in light of a "strong" forecast. Nor is there an adjustment for expected changes to the tax code, which call for higher taxes on the middle class starting in 2025. It's still instructive. We're borrowing and printing unthinkable amounts today to steady the economy, and yet our long-run growth will still fall below 2%. And as far as we know, this does not included the CDC's latest estimate that it will be nearly seven years for a sufficiently vaccinated population to return to normal activity levels.
Expect interest rates to follow suit, with a possible pop over the next couple of years followed by another long decline. Lock in rates if and when they rise. If you have home mortgage, refinancing might be beneficial.
GameStop (NYSE: GME) Falls Back to Earth… Shares of GameStop fell to below $70 midday Thursday after peaking at over $500 earlier in the week.
What it means— So much for holding on for $1,000. Reddit users banded together to push up shares of GME, causing financial pain for hedge funds that had sold the shares short. For every seller there must be a buyer – some of which were hedge funds making millions.
But the game, as it was, had nothing to do with the fundamentals of the company, which are still suspect in an online world. It couldn't last. Along with brokerage firms stopping trading, they were reducing the shares investors could purchase. While people took profits, the shares rolled over. During 2020, GameStop stock swung between $2.50 and $513.
Interestingly, the sudden surge of retail investing in GameStop, AMC Theaters, and other heavily shorted names benefits some of the hedge funds that the Reddit users claim to despise. Firms like Citadel act as market makers. They buy order flow from brokerage firms like Robinhood and then resell the orders for a bit of a profit. (Afterall, the trades are "free"). The more orders are placed, the more money Citadel and others make. Once again, the hedge fund managers are laughing all the way to the bank.
Exxon Mobil Reports $20 Billion Loss, Reveals Discussion to Merge With Chevron… Once the most valuable company in the U.S., Exxon has been ravaged by falling energy prices and the expected move to renewable energy.
What it means— John Rockefeller might be smiling in his grave. Combining Exxon Mobil with Chevron would  reconstitute the two largest parts of Standard Oil that the U.S. broke apart more than a century ago. But it's not a cause for joy. Once the most valuable company in America, Exxon is now worth a mere $190 billion, or less than 10% of Apple. Much of the company's current losses have to do with writing down reserves. With investor psychology laser focused on electric vehicles and renewable energy, don't expect Exxon or any of its brethren to reemerge as market darlings anytime soon.
School Districts Along East Coast Declare Snow Day for Virtual Classes… It's one of those things that makes you think, "Hmm." School districts from the greater D.C. metro area to Boston declared partial or full snow days as the latest winter storm blew through the region earlier this week. While the kids were happy, other people weren't so thrilled.
Snow days usually happen when the weather is so poor or dangerous that students and educators must stay home. Because of virtual learning, kids and teachers are already at home. With many kids already falling behind because virtual learning is a poor substitute for in-person instruction, it seems like a poor decision to declare a free day or free half day due to the weather.