Biden Takes Office… Joe Biden became the 46th president of the United States after a peaceful and quiet inauguration.
What it means— There's a new sheriff in town, and he's determined to unwind most of the things that happened under the last administration. Biden quickly signed 15 executive orders and 2 executive actions on his first day and planned more for his second day.
The moves covered everything from lifting travel bans on countries considered likely to house terrorists to nixing the permit for the Keystone XL pipeline. The move hurts Canada as well as our energy independence. Early estimates are 11,000 U.S. jobs will be eliminated including 8,000 high paying union jobs and $2.2 billion in wages. It is a concession to the green wing of his party as oil production is not stopped but just shifted to our competitors. Transporting the oil shifts back to the railroads which is less safe than a pipeline. The  moves Biden made were telegraphed far in advance.
Investors breathed a sigh of  relief that the transfer of power happened peaceably, with just small protests at a few state capitols. Notable exceptions were Portland and Seattle, where Antifa and antigovernment protesters rioted and noted their displeasure with our new president by vandalizing the Democrat Party Office building as well as others.
Housing Starts Up 5.8% in December… Home builders worked quickly last month to boost supply, increasing single-family housing starts to the highest rate since 2006.
What it means— Housing starts are notoriously volatile and, because they are seasonally adjusted, the December numbers can be especially unreliable. But the direction last month followed the trend that's been happening during the pandemic, so there's no reason to discount the home building pace. The details of the report were even better than the headline numbers.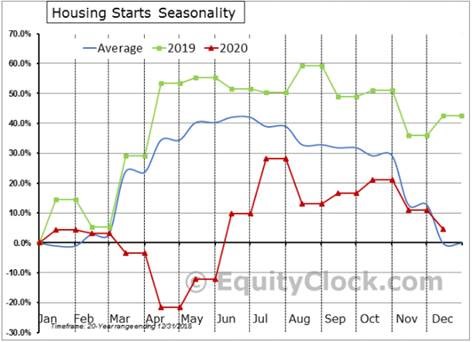 Single-family housing starts, which require more labor and add more to the economy, rose 12% last month, while multifamily starts fell 15.2%. The numbers reflect the common pandemic story of people leaving crowded cities and looking for their own space as they adjust to a new work/life balance.
Existing Home Sales Up 2% in December, Up 22% Over Last Year… Existing home sales defied an expected 0.7% decline and moved higher.
What it means— What a year for real estate! Existing home sales reached 5.64 million units last year, the highest total since 2006. Sales would have been higher, but there's not much to buy. Existing home inventory dropped 23% last year to just 1.9 months of supply, the lowest absolute number of homes for sale and the lowest supply on record.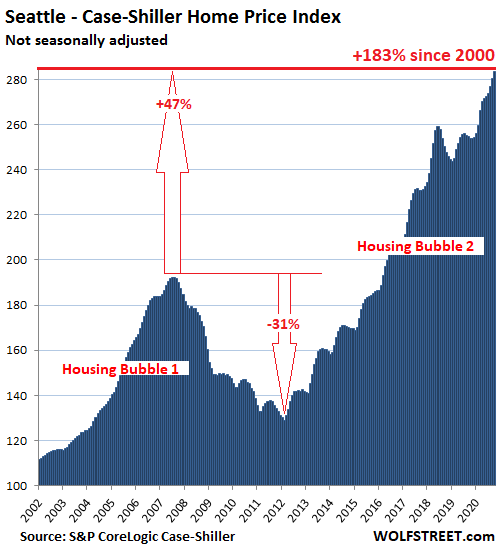 The breakneck sales pace and low supply pushed the median home sale price to $309,800 in December, the highest level on record for that month. But the sales weren't evenly distributed. During 2020, the number of homes sold that were priced below $100,000 fell 15%, while the number of homes sold that were priced at more than $1 million increased 90%.
Social Media Users Leaving Facebook, Turning to MeWe… Facebook and other social media platforms have been under pressure after deplatforming President Trump. Many users are looking for alternatives that allow freer speech.
What it means— MeWe isn't quite a household name like Facebook, but it might be soon. The social media platform competes with Facebook. It added nine million users from its start in 2016 through October of last year but has added more than six million users in the last three months and added more than two million in the last week. MeWe touts itself as the"ad-free future" of social media and is one of the most downloaded social media apps of the new year.
While the company's growth rate is impressive, it's worth noting that Facebook averaged over 1.8 billion daily active users last year, and more than 2.7 billion monthly active users. MeWe's user base is less than 1% of the people who use Facebook every day. Mark Zuckerberg probably isn't feeling the heat of competition…yet.
Car Thief Realizes That a 4-Year-Old Is in Vehicle He Stole, Circles Back To Admonish Mom… A car thief in Beaverton, Oregon, picked off a running vehicle that was parked outside of a grocery store. He soon realized that a four-year-old child was in the car, so he returned to the grocery store, where he promptly admonished the mom and threatened to call the cops on her for leaving her child unattended. The thief instructed the parent to take her child out of the car, and then he stole the vehicle.
Maybe someone should admonish his mom.
Data supplied by HS Dent Research
"When the facts change, I change my mind.
What do you do, sir?" ~ John Maynard Keynes
Our plan is "the plan will change."
What is your plan?
Relative strength measures the price performance of a stock against a market average, a selected universe of stocks or a single alternative holding. Relative strength improves if it rises faster in an uptrend, or falls less in a downtrend. It is easily applied to individual positions in your portfolio and to sectors and asset classes.
A copy of our form ADV Part 2 is available online.
Investor Resources, Inc. only transacts business in states where it is properly registered or notice filed, or excluded or exempted from registration requirements. Follow-up and individualized responses that involve either the effecting or attempting to effect transactions in securities, or the rendering of personalized investment advice for compensation, as the case may be, will not be made absent compliance with state investment adviser and investment adviser representative registration requirements, or an applicable exemption or exclusion.