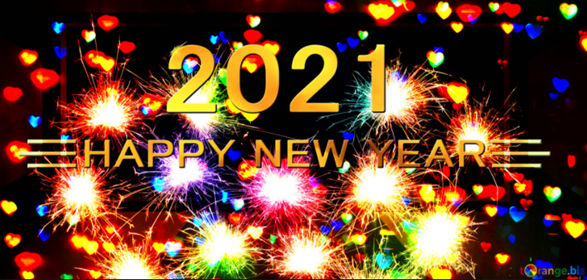 We wish you a Happy New Year.
There are many unresolved issues within our society along with the virus… Even some television anchors have admitted to bouts of depression and seeking help due to lockdown isolation.
What it means— Certainly, if you are among those needing help, reach out to get it. Remember the instruction Paul gave to the Philippians: Philippians 4:6 "In nothing be anxious, but in everything, by prayer and petition with thanksgiving, let your requests be made known to God."
 Trump Signs Appropriations Bill That Includes Relief Measures… After calling the bill a disaster, President Trump signed it on Sunday night and called on Congress to increase the individual payments to $2,000.
What it means— House Democrats jumped on board with the bigger payments and passed a measure to that effect, but Senate Majority Leader Mitch McConnell wasn't having any of it. Instead of considering it as a stand-alone measure, he said that the measure will be part of another bill that is controversial and going nowhere. Effectively, he killed it, but the idea won't go quietly. Democrats will use the fact that Republicans in the Senate refused to take up the measure as a rallying cry in the Senate runoffs in Georgia. It's almost as if President Trump was mad at sitting Senators, possibly for not giving him the support
S&P CoreLogic Case-Shiller Home Price Index Up 8.4% in October… The annual Home Price Index (HPI) soared, as people flooded out of cities and into the suburbs.
What it means— The HPI is released on a two-month lag, so these numbers are a bit stale, but they tell a story that home buyers know all too well. Prices have marched higher all year. Existing and new home sales took a breather in November, which might mean that prices will go sideways for a while, but so far there's no indication that real estate prices will fall anytime soon.
Yet, even with the lowest mortgage rates in recent history, home affordability remains difficult. Payments are consuming the largest percentage of income since the Great Recession.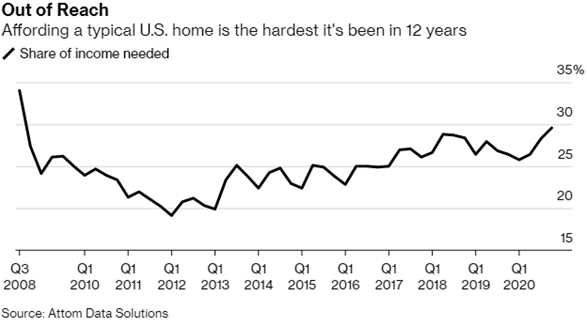 Holiday Sales Up 3% Over 2019… Mastercard estimates that holiday sales from mid-October through December 24 rose 3% over last year.
What it means— The Mastercard estimate included Amazon's Prime Days in the middle of October, which other retailers matched. More traditional measures, which included just November and December, show retail sales up about 2.5%. It's not worth quibbling over the difference.
In April and May, who thought that we'd see higher holiday sales? But it wasn't all great news. E-commerce sales jumped almost 50% and made up 19.7% of all holiday sales. That's great for Amazon and Shopify, but it was bad news for brick-and-mortar retailers.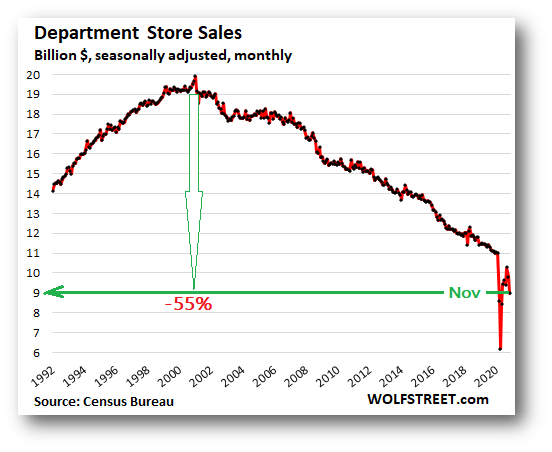 When the pandemic ends, we're not likely to go back to in-person shopping at the same rate that we did before the pandemic. Expect a lot of shopping malls, strip centers, and outlet malls to shrink or go under next year.
In a Gallup Poll, President Trump Named Most Admired Man in America… The report was full of surprises. The polling company has asked the question since 1946, and the sitting president has been at the top of the list in 60 of the 74 annual surveys. Barack Obama earned the distinction in 2008, a year before he took office, and held it until this year. Trump has been on the top ten list in 10 different years, including 1988–1990 and 2011, when he wasn't president.
Data supplied by HS Dent Research
"When the facts change, I change my mind.
What do you do, sir?" ~ John Maynard Keynes
Our plan is "the plan will change."
What is your plan?
Relative strength measures the price performance of a stock against a market average, a selected universe of stocks or a single alternative holding. Relative strength improves if it rises faster in an uptrend, or falls less in a downtrend. It is easily applied to individual positions in your portfolio and to sectors and asset classes.
A copy of our form ADV Part 2 is available online.
Investor Resources, Inc. only transacts business in states where it is properly registered or notice filed, or excluded or exempted from registration requirements. Follow-up and individualized responses that involve either the effecting or attempting to effect transactions in securities, or the rendering of personalized investment advice for compensation, as the case may be, will not be made absent compliance with state investment adviser and investment adviser representative registration requirements, or an applicable exemption or exclusion.