Covid-19 creating confusion and fear… Media reports of rising cases dominate the headlines.
What it means— The media is not reporting much good news regarding falling death rates or demographic groups with virtually zero infection rates. Whether we are figuring this out or just tired of autocratic restrictions, we are doing what we can to return to normal mobility levels.
Initial Jobless Claims Tick Higher to 1.4 Million, While Continuing Claims Dipped… 100,000 more people filed for first-time unemployment benefits last week than in the previous week. Continuing claims in state unemployment programs fell from 17.3 million to 16.2 million.
What it means— While state programs paid out fewer benefits, the federal program paid out more. The overall net effect was a modest drop in continuing claims of two hundred thousand. As economic restrictions drag on, it will be harder for the unemployed to find jobs because of more permanently closed businesses.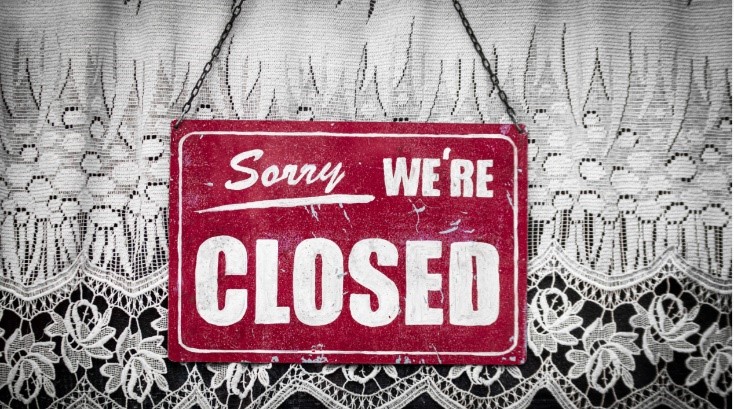 Popular rating site Yelp! reports that 23,981 restaurants have shut down during the pandemic, and 55%, or 15,742, have closed for good just in the past month.
Restaurants aren't the only ones. Men's Wearhouse, PVH Corp, Microsoft, GNC, JCPenney, Victoria's Secret, Nordstrom, and Sears are among the retailers closing 6,000 stores this year.
More than 25% of Americans Either Missed Last Month's Housing Payment or Have Doubts They Can Pay in August… A U.S. Census Bureau survey shows 45 million Americans, or 26.4%, either did not pay, or aren't sure they can pay, for their housing.
What it means— This number should make everyone very nervous. We have millions of homeowners in deferment and forbearance plans, and millions of renters have either struck deals with their landlord or simply haven't paid. There is no free lunch. Someone's missed payment is another person's missed income. This is the reason major banks set aside more than $30 billion in loan loss provisions. It's not a question of if we will suffer a major economic setback as money stops moving through the pipeline, it's a question of when.
 Senate Republicans Develop $1 Trillion Stimulus Package… The House passed a $3.5 trillion stimulus package weeks ago. Now the Senate is proposing its own plan, which will set up negotiations to arrive at a final bill.
What it means— Make no mistake. They will spend. It's just a matter of who gets what. The House measure included a lot of money for everyone. The Senate proposal won't be so generous. The House wants to keep up the unemployment bonus checks and give $1.5 trillion to cities and states.
The Senate wants to pay people more for going back to work and doesn't provide for local governments. With the unemployment bonus checks expiring this week, the two sides have little time to get something done before constituents start calling to get their next check.
June Existing Home Sales Jump Almost 21%, Still Down 11.3% From Last Year… Realtors are scrambling for inventory as buyer interest remains high.
What it means— There's lots of speculation as to what is driving the rebound in home sales. Maybe it's ultra-low mortgage rates, which now sit under 3% (if your credit is as pure as fresh snow). Perhaps it is the exodus of renters from densely populated urban centers to the suburbs in search of a higher quality of life and free of rioters. Before someone can buy an existing home, someone else has to become a seller, and that's a sticking point. Realtors report a lot of buyer interest and few willing sellers. After all, when an open house is over, who is going to pay to sanitize it?
New Home Sales Jump Another 13.8% in June, now Up 6.9% Over Last Year… The May number, already high at 16.6%, was revised higher to 19.4%.
What it means— New home sales represent a little more than 10% of the market. With few existing homes available, buyers are turning to new homes, driving that market. The question in new home sales is the same one that should be haunting realtors selling existing homes: How long can it last?
With jobless claims inching higher this week, unemployment benefits in question, the moratorium on evictions expiring and so many people missing their rent or mortgage payments, it looks like rough economic times ahead.
Tesla Posted Fourth Consecutive Quarterly Profit…The electric car company earned $2.18 per share, or $104 million. The milestone makes it eligible to be included in the S&P 500.
What it means— Did you get a "thank you" card from Tesla? Ours must have been lost in the mail. While the company did indeed post a profit, it's hard to say "they earned it." The firm received $428 million from selling zero-emission car credits to its competitors. Without this taxpayer funded benefit, Tesla would have posted a $324 million loss from its actual business of building cars.
But investors don't seem to care. They've pushed the company's value to almost $300 billion, making it the most valuable car company on the planet even though it plunks out less than 1% of the cars produced. Go figure.
The stock looks like the biggest bubble in the market right now, but it did so $1,200 ago at $400. Many still think so. Believers argue its really a technology firm. Maybe owners of the Model 3 want less tech and more car since the rear bumper falling off has become common.
Would You Like a Handful of Croutons with that Drink, or Nine French Fries?… New York Governor Andrew Cuomo issued new regulations requiring anyone ordering alcohol at a bar or restaurant to also order food.
What it means— Many bar owners took exception to the rule, noting that it puts up another barrier to earning revenue in difficult times. Owners quickly adapted. Across the state, bars began offering tiny food quantities, typically priced at $1. A bar in Buffalo, New York offered an entire $1 menu that included such things as nine French fries, a piece of meat, the "Smallest Piece of Cheesecake in Buffalo," and a handful of croutons.
Next Week—The last week of July is filled with economic releases from the S&P CoreLogic Case-Shiller Home Price Index to durable goods orders and the latest Federal Reserve monetary policy decision. But all eyes will be on one thing, second-quarter GDP, which will be announced Thursday morning.
Data supplied by HS Dent Research
"When the facts change, I change my mind.
What do you do, sir?" ~ John Maynard Keynes
Our plan is "the plan will change."
What is your plan?
Relative strength measures the price performance of a stock against a market average, a selected universe of stocks or a single alternative holding. Relative strength improves if it rises faster in an uptrend, or falls less in a downtrend. It is easily applied to individual positions in your portfolio and to sectors and asset classes.
A copy of our form ADV Part 2 is available online.
WARNING: All e-mail sent to or from this address will be received or otherwise recorded by the Investor Resources, Inc. corporate e-mail system and is subject to archival, monitoring and/or review, by and/or disclosure to, someone other than the recipient.
This message is intended only for the use of the person(s) ("intended recipient") to whom it is addressed. It may contain information that is privileged and confidential. If you are not the intended recipient, please contact the sender as soon as possible and delete the message without reading it or making a copy. Any dissemination, distribution, copying, or other use of this message or any of its content by any person other than the intended recipient is strictly prohibited.  Investor Resources, Inc. has taken precautions to screen this message for viruses, but we cannot guarantee that it is virus free nor are we responsible for any damage that may be caused by this message.
Investor Resources, Inc. only transacts business in states where it is properly registered or notice filed, or excluded or exempted from registration requirements. Follow-up and individualized responses that involve either the effecting or attempting to effect transactions in securities, or the rendering of personalized investment advice for compensation, as the case may be, will not be made absent compliance with state investment adviser and investment adviser representative registration requirements, or an applicable exemption or exclusion.