President Trump Announces Tariffs on Mexican Imports… In an effort to prod the Mexican government to stem the flow of Central American immigrants crossing the nation to apply for asylum in the U.S., Trump announced his intention to levy a 5% tariff on Mexican goods on June 10 and increase the tariff by 5% on the first of every month until they reach 25% on October 1.
What it means – The news sent U.S. equities into a tailspin, with car companies leading the indices lower. The U.S. imported $346 billion from Mexico, most of it in the auto industry. Tariffs on that industry, which works on small margins and currently is facing a demand problem, won't be easy to absorb. If the car companies pass on the price hikes, it could put auto sales into the deep freeze, which will affect retail sales, manufacturing, and a host of other things.
On the flip side, we exported $265 billion worth of goods to Mexico, more than twice what we sold to China. If their government retaliates, it will be more painful for U.S. companies than Chinese tariffs. One area to watch is the oil patch. The U.S. sends a lot of natural gas and refined products such as gasoline to Mexico. Tariffs could hurt the sector, especially in the Permian Basin of Texas because so much of the exports flow through pipelines from the region across the Southern Border.
Stock market continues to weaken… For months, listeners to our radio program have heard us discuss the current market as a trading range with a negative bias.
What it means – The selling is becoming more obvious. Corporate stock buyback programs have been estimated at $1 trillion. However, the biggest sellers, known as Dark Pools,  control $100 trillion. The DPs don't announce their intentions but have been increasing their selling activity. The data we watch looks ominous and explains why our portfolios began the shift to defense in early May. Currently, all portfolios are in cash or very defensive positions. In the chart, red is selling; green is buying; grey is non-directional activity.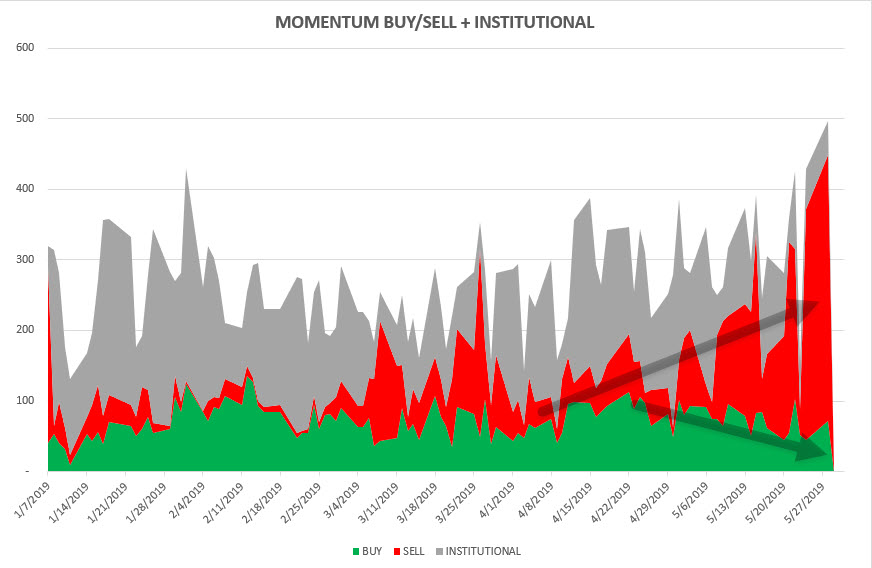 S&P Case CoreLogic Case-Shiller 20 City Home Price Index (HPI) Up 0.1% in March… The index is 2.7% higher than the same period last year.
What it means – The long arc toward flat continues. The HPI was up more than 6% for the year in early 2018, but over the last 15 months the gains have slowly evaporated, showing that home prices are decelerating. New York City showed no change in March, while home prices in Dallas and Chicago fell 0.1% and 0.2%, respectively. But it wasn't all bad news. Out West, prices in San Diego and San Francisco both popped 0.7%, bringing their annual growth rate up to 1.3%. That might not sound like much, but given that prices have been falling in California, they'll take any positive numbers they can get.
U.S. First-Quarter GDP Revised Lower 0.1%… The Bureau of Economic Analysis slightly lowered its estimate of economic growth in the U.S., adjusting consumer spending higher and business and residential investment lower.
What it means – The overall numbers didn't change much, so the same positives and negatives exist. The surprisingly high number looks great, but the fact that it was driven by higher inventory makes it questionable. Weaker numbers in durable goods orders and housing during the second quarter are part of the reason that investors remain cautious. Well, those things plus the 8-million-pound gorilla called the trade war with China.
Chinese Diesel Demand Falls 14% in March 19% in April… Diesel fuel demand in China has been falling since December 2017.
What it means – The Chinese have an incredible ability to estimate GDP growth – or at least, they always report growth that matches or slightly exceeds expectations. This defies the nature of statistics, and also strains credulity. The national government requires regional and local governments to add a certain amount of economic activity every quarter, or else they won't get their allotment of national tax funds. Amazingly, these government entities always report what is required of them, which get them their tax money, but makes everyone else say, "Hmm."
The numbers games leave the rest of us looking for other ways to estimate growth in the Middle Kingdom, and now an analyst at Wells Fargo has come up with a novel approach. Roger Read looks at diesel demand to gauge the activity of large equipment needed in construction, manufacturing, farming, etc., and he doesn't like what he sees. The numbers have been falling for more than a year and have reached a level not seen in a decade.
The Chinese Miracle appeared to be losing steam before Trump threw the first stone in the trade war. Now it looks like the trade spat is causing a significant slowdown. It remains to be seen if that will persuade the Chinese to cut a deal more favorable to the U.S.
70% of Americans Think They Will Be Better Off Financially Next Year… 66% of us report having enough money to live comfortably, but problems remain, as 25% say they worry "all" or "most" of the time that they won't have enough money to cover their bills.
What it means – The mish-mash of studies and surveys show that, overall, Americans are financially stable but remain unrealistically optimistic. Just as with more than 70% of Americans believing they are above-average drivers, it's hard to square the high hopes about next year with the fact that less than a third of Americans couldn't come up with $400 to pay for an emergency expense without selling something or borrowing the money. But then again, if you think you're at rock bottom, then the only way to go is up!
Tesla Adds "New Feature" to Popular Charging Stations: A Charge Limit… The electric car company announced that it will limit charging at the most heavily used charging stations to 80% of full charge. The stations that account for the highest 8% of use will maintain this limit 24/7, while the stations with the next 9% of use will limit charging during busy times, such as holidays.
What it means – Tesla announced the change as a "New Feature," but failed to describe the feature as a reduction for users, taking away something they previously enjoyed. The problem is that Tesla drivers at the popular charging stations are waiting in long lines to replenish their batteries, which must be frustrating when you've spent $50,000 to $100,000 on the car and points out a significant hurdle to large-scale electric vehicle adoption. There aren't enough charging stations.
It's not fair to compare the number of charging stations to gas stations, because electric vehicle owners can refuel their vehicles at home, overnight, an option not available to those who drive gasoline and diesel vehicles. But when you want a quick charge on the road, you still need a source. Tesla and others point out that only a small percentage of people drive more than 100 miles from home during the day, but as the number of electric vehicle owners expands, the absolute number of those driving longer distances increases.
The other problem is the time to charge. Filling your gas tank takes less than five minutes, while recharging an almost depleted electric vehicle battery to 80% at a super-charging station takes half an hour. That's a lot of waiting time when you're second or third in line.
Data supplied by Dent Research/Delray Beach Publishing
"When the facts change, I change my mind.
What do you do, sir?" ~ John Maynard Keynes
Our plan is "the plan will change."
What is your plan?
Relative strength measures the price performance of a stock against a market average, a selected universe of stocks or a single alternative holding. Relative strength improves if it rises faster in an uptrend, or falls less in a downtrend. It is easily applied to individual positions in your portfolio and to sectors and asset classes.
A copy of our form ADV Part 2 is available online.
WARNING: All e-mail sent to or from this address will be received or otherwise recorded by the Investor Resources, Inc. corporate e-mail system and is subject to archival, monitoring and/or review, by and/or disclosure to, someone other than the recipient.
This message is intended only for the use of the person(s) ("intended recipient") to whom it is addressed. It may contain information that is privileged and confidential. If you are not the intended recipient, please contact the sender as soon as possible and delete the message without reading it or making a copy. Any dissemination, distribution, copying, or other use of this message or any of its content by any person other than the intended recipient is strictly prohibited.  Investor Resources, Inc. has taken precautions to screen this message for viruses, but we cannot guarantee that it is virus free nor are we responsible for any damage that may be caused by this message.
Investor Resources, Inc. only transacts business in states where it is properly registered or notice filed, or excluded or exempted from registration requirements. Follow-up and individualized responses that involve either the effecting or attempting to effect transactions in securities, or the rendering of personalized investment advice for compensation, as the case may be, will not be made absent compliance with state investment adviser and investment adviser representative registration requirements, or an applicable exemption or exclusion.