Coronavirus Infects Equities, Kills Bull Market… It took 16 trading days from the February 19th record high for the S&P-500 to fall 26%. The 11-year bull market has come to an end.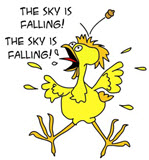 What it means – It's all about what might be, not what is. Around the world, about 130,000 people have contracted the coronavirus, and 4,700 have perished. A typical flu season around the world sees 400 million infected and 389,000 deaths. Investors are reacting to panic and panic-induced closures.
Travel restrictions and event closings cause real economic pain. But there's a natural end in sight. The flu season winds down as the weather warms, typically starting in April. We should be just a few short weeks away from falling infection reports, which hopefully will end the panic.
In the meantime, whether self-imposed or mandated, quarantines have already impacted business. Supply chain problems have been reported by 94% of Fortune 1000 companies. Stock prices have tumbled through every sector of the S&P-500.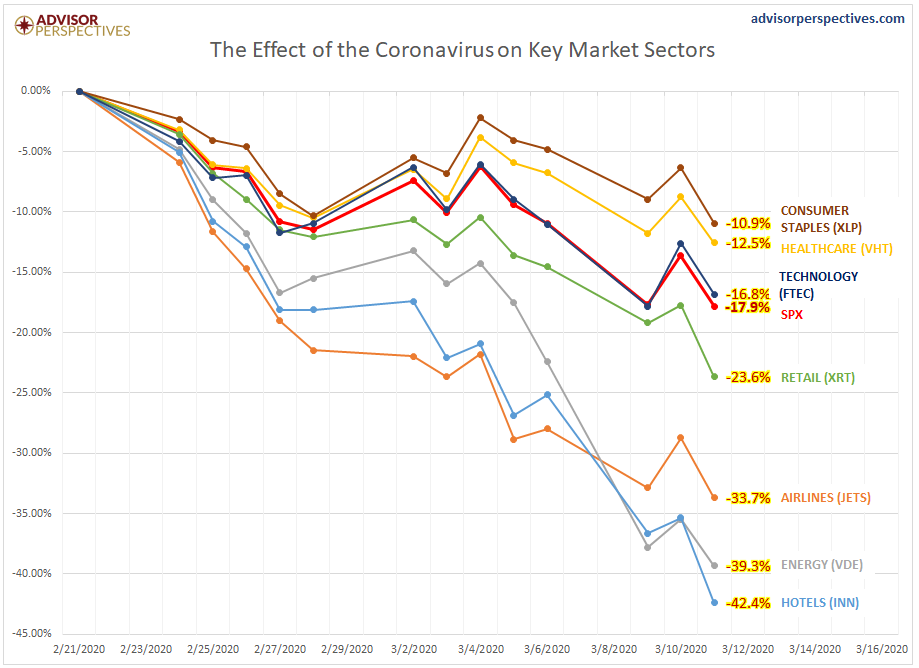 Every bear market has a periodic bounce. On our radio program, we have previously reported many companies have cancelled estimates of next quarter's earnings. Forward earnings estimates are unknown due to the vagaries of supply chain problems. For example, Apple's iPhone has parts made in twenty six countries finally assembled in China.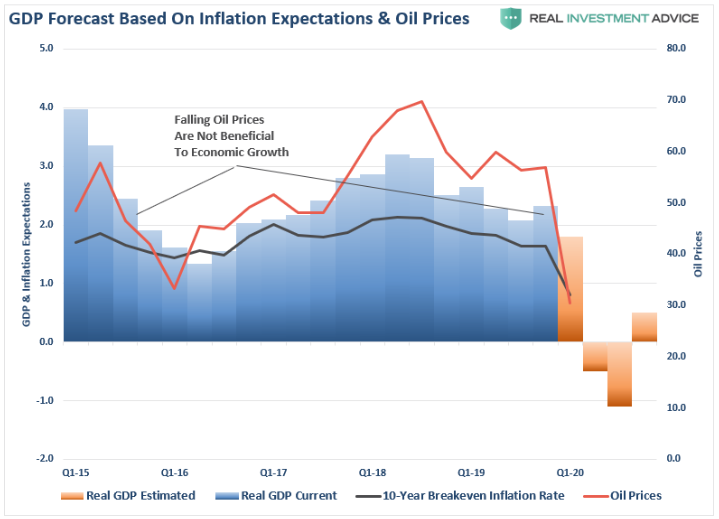 As we have cautioned on air, after four quarters of declining earnings, we expect the next several quarters to be lower.
Price adjustments are just beginning. Our client accounts are either in cash, fixed income or, in a few cases, short the market. The 401k guidance we issue at the beginning of the month has been increasingly defensive over the past several months.
Joe Biden Puts a Nail in the Coffin of Sanders Campaign… Joe Biden won most of the contests on mini-Tuesday, including the all-important contest in Michigan.
What it means – Biden's wins put him way ahead of Sanders in the delegate count and made him the presumptive Democratic presidential nominee. Sanders vowed to stay in the race and debate Biden this weekend. The DNC announced the debate won't include a live audience because of virus fears. It's questionable if they could've filled the venue anyway given the low turn outs at prior events. With Biden so far ahead and no invitation sent to Tulsi Gabbard (yes, she's still in the race), who needs to watch this debate?
The contest will now shift to a conversation over Biden's running mate. Will he pick Klobuchar to shore up the Midwest, or an Arizona Democrat to try to flip that state? It's unlikely he'd pick Sanders or Warren because their policies are so different from the standard party platform. Biden doesn't support Medicare for all, but he does want higher taxes on people and corporations. He gave the Green New Deal his full support and, depending on the crowd, gun confiscation as well.
Consumer Prices Rose 0.1% in February, Up 2.3% Over Last Year… The annual inflation rate dipped from 2.5%, which was a 15-month high.
What it means – This report, like so many others, can be thought of as "bc," or "before coronavirus." I guess that would make anything in March or later "ad," or "after detection." While inflation ran a bit cooler in February, food prices rose 0.4% and rent rose 0.3%. No one cares. It's all about what's next.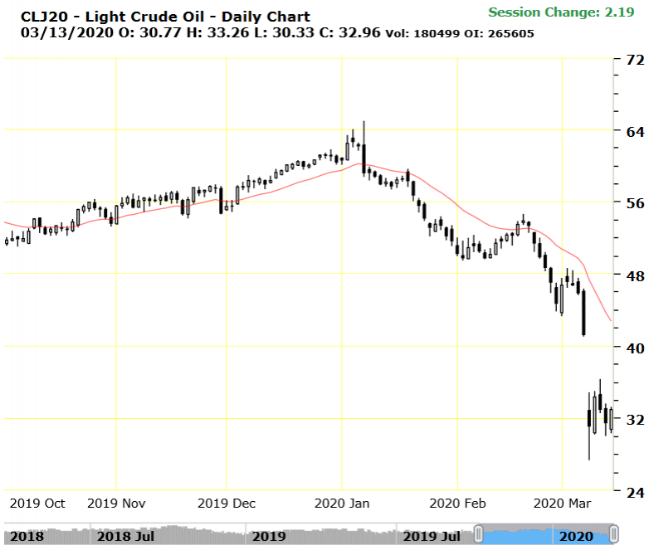 With airlines about to give away tickets and restaurants needing to run specials all day to attract patrons, we should see inflation numbers dip in the weeks ahead. Oil prices are in the low $30s per barrel. Energy prices will fall as well. U.S. frackers and Russia need higher prices to cover production costs. If these prices persist, credit defaults will follow.
There was an interesting tidbit in the report. Real hourly wages rose 0.3% last month, putting them higher by just 0.6% for the year. If the virus causes widespread work stoppages and layoffs, unemployment will rise and wages will flatten or fall. That's not good for consumer confidence and is a negative for the overall economy. Corporate earnings could slip further extending the new bear market.
Producer Price Index Down 0.6% in February, and Points Lower… Producer prices measure inflation among wholesalers. The consensus estimate for February was down 0.1%; the number came in much weaker, pointing to pricing pressure.
What it means – Wholesale prices were just 1.3% higher than February of last year, and that's even considering this report is "bc." With travel forbidden and consumers banned from many places like sports venues and avoiding others, it's likely wholesale prices will drop through March.
Kids in Wuhan China Fight Back Over Homework Assignments During Quarantine… Like adults in Wuhan, the kids are under quarantine, not allowed to go to school, the park, or any place where people might gather. But that hasn't stopped their teachers, who have assigned homework over a mobile phone app called DingTalk.
A group of students weren't impressed by having to do homework while out of school, so they found a novel way to avoid it. They spammed the mobile app with one-star ratings in the app store on their phones. As the negative ratings racked up, the app sank lower in the store, and was eventually dropped due to poor reviews. Clearly these kids deserve an "A" for cleverness if not for homework completion. In the end, the app developer prevailed.