Federal Reserve Plans to Hold Steady for Years… At their regularly scheduled meeting this week, the central bankers agreed to hold monetary policy steady and for the majority forecast rates to remain low through 2022.
What it means— Fed Chair Jay Powell did his best Alfred E. Neuman impersonation when he essentially said about inflation, "What, me worry?" The bankers held interest rates near zero and announced no change in their bond-buying program. In his press conference after the meeting, Powell said that the bankers see signs of economic growth and cause for optimism but that many sectors of the economy remain weak. They raised their 2021 GDP estimate to 6.5% and their inflation target to just above 2%.
The markets rebounded after the Fed announcement. Bond prices firmed a bit on Wednesday but fell on Thursday with interest rates marching higher on the long end. The yield curve is steepening as investors brace for inflation and the Fed holds short rates low.
Consumers Closed Their Pocketbooks in February and Retail Sales Fell 3%… After soaring to 7.6% in January, retail sales dipped last month.
What it means— Two things have pushed retail sales around since the New Year: stimulus checks and the weather. January retail sales shot higher as consumers received another a round of stimulus money, but then February sales sank as the stimulus effect wore off and the bitter cold kept people at home, many of them without power. We couldn't even shop online! But don't worry, Biden & Company has passed the next relief package and the Treasury is presently dropping cash across the country. Expect retail sales to rebound in March and beyond as we get free money and as state economies open on a rolling basis.
Housing Starts Sag During February Freeze… Housing starts fell from an annualized rate of 1.58 million units to 1.42 million units, a decline of just over 10% which is the first decline since August.
What it means— Housing starts data are notoriously noisy, because they are so dependent on external factors like the weather. The Arctic freeze that swept the nation kept people away from work and, in the aftermath, diverted attention to essential repairs. The internal factors driving the housing market, including low rates, record demand, and record low inventory, haven't changed. Expect this number to jump in March. However, lumber prices are at an all-time high and rising mortgage rates are posing some risks to continued demand.
American Travel Spending Fell $492 Billion Last Year… The U.S. Travel Association estimates that Americans spent 42% less on travel in 2020.
What it means— The industry lost 5.6 million direct and indirect jobs and reduced total economic output by just over $1 trillion, according to the group. The decline in spending also cost governments more than $50 billion in tax revenue. The group hopes that the rapid vaccination rate and lifting of economic restrictions will lead to a swift recovery in the industry.
TSA Checkpoint screenings are increasing as states reduce lockdown conditions. However, screenings are still more than 50% below pre-pandemic levels.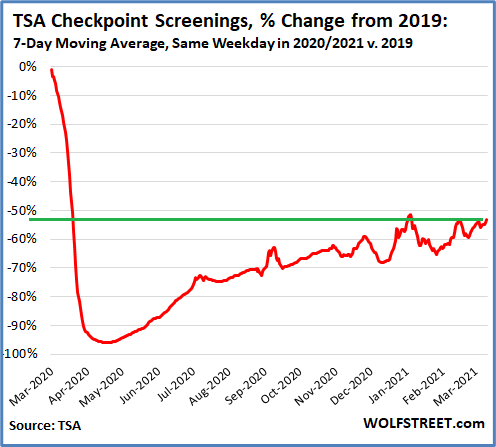 With Americans eager to get out and about, we're likely to see people quickly return to travel, but it's not all good news. In areas such as New York City that rely heavily on foreign tourism, the forecasts aren't so positive. International "revenue passenger miles" is down 66%. Don't expect international tourism to return for another year. Business travel, the main source of air carrier profits, isn't likely to return for years.
App Lets You Distort Zoom Calls, Giving You an Out… For times when  the New Yorker Magazine excuse for not scheduling a meeting ("How about never? Never works for me…") won't work, a new app called Zoom Escaper gives you the perfect cover for dropping off. The app routes your call through its audio filter and allows you to add a number of fake effects, including barking dogs, crying babies, construction noise, and just general audio interference. Once the desired effect is coming through, you can excuse yourself from the useless meeting. How long will it be until kids find this and use it to bail on virtual school?
Data supplied by HS Dent Research
"When the facts change, I change my mind.
What do you do, sir?" ~ John Maynard Keynes
Our plan is "the plan will change."
What is your plan?
Relative strength measures the price performance of a stock against a market average, a selected universe of stocks or a single alternative holding. Relative strength improves if it rises faster in an uptrend, or falls less in a downtrend. It is easily applied to individual positions in your portfolio and to sectors and asset classes.
A copy of our form ADV Part 2 is available online.
Investor Resources, Inc. only transacts business in states where it is properly registered or notice filed, or excluded or exempted from registration requirements. Follow-up and individualized responses that involve either the effecting or attempting to effect transactions in securities, or the rendering of personalized investment advice for compensation, as the case may be, will not be made absent compliance with state investment adviser and investment adviser representative registration requirements, or an applicable exemption or exclusion.