Two. Trillion. Dollars.… The Senate approved a $2 Trillion stimulus package to fight the economic effects of the response to SARS-CoV-2, the official name for coronavirus.
What it means – We're sending out lots of cash in the form of direct payments to people, bailout bucks and forgivable loans to certain businesses, straight loans to other businesses, and free cash to some states. The problem will be transmission.
Can we get the funds to the neediest businesses quickly enough to stave off closures and bankruptcies? No one knows. The federal government will use the Small Business Administration to handle the small business component of the bailout, but that agency isn't known for speed and efficiency. If it takes eight weeks to get cash to the hardest hit small businesses, that could be four weeks too late.
The plan is big, about 40% of annual government spending, and messy. But the federal government can't wield a scalpel. The measure will help thousands of businesses, hundreds of millions of people, and restore the one thing money obviously can buy… confidence.
The markets are on pace for the biggest weekly gain since the great depression but remain more than 20% off the record highs.
Weekly Jobless Claims Soar to 3.28 Million… The number of people filing for unemployment jumped from 281,000 last week to 3.28 million, far surpassing the previous peak of 695,000 in October 1982, and the peak during the Great Recession of 665,000 in March 2009.
What it means – The estimate was 1.5 million, but that's only because there had to be an estimate. No one knew what the number would be, and it came out on Thursday alongside the news that the Senate passed the stimulus bill 96-0 which has since become law. That made the record-setting jobless claims number a non-event in the eyes of investors. Expectations are for even more claims in the weeks ahead.

February New Home Sales Down 4.4% From 13-Year High … New home sales plummeted near the end of February as foot traffic fell and economic worries mounted due to the spread of SARS-CoV-2.
What it means – This an "almost" bc (before coronavirus) statistic. Worries over the virus were starting to affect the Northwest, West, and Northeast markets at the end of last month, so that's reflected in the drop. No one knows what March will bring.
With more than one quarter of the nation living under some level of shelter-in-place, sales will be off dramatically. Builders and realtors aren't focused on March numbers, they're wondering how quickly, or perhaps how slowly sales rebound. The virus hit during the peak selling season, and that's going to cause a lot of pain in the real estate market for builders as well as agents. The Lumber:Gold ratio we track shows lumber demand falling and indicating this sector has more downside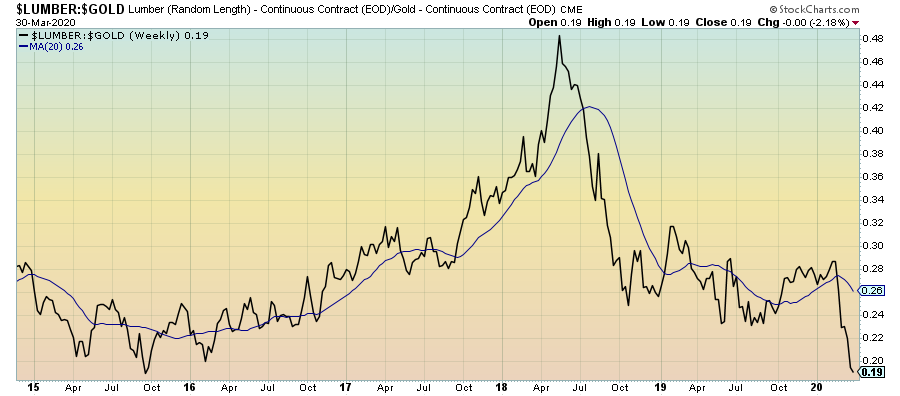 Durable Goods Orders Up 1.2% in February, Will Fall in March… Orders for items that last more than three months jumped last month, led higher by auto sales.
What it means – As another "bc" statistic, this one will drop like a rock in March, and probably fall further than others. Durable goods by their nature typically aren't essential items. Few people can claim that upgrading their car or refrigerator is essential to life. Typically, perishable items like food and medical supplies fit the description of essential goods. Inside of the report, business investment dropped 0.8%, which isn't a good sign as it occurred before the virus led to widespread shutdowns.
Fannie Mae, Freddie Mac, and FHA Offer Up to 12 Months of Forbearance… The government-backed mortgage lending giants will allow homeowners affected by the virus to suspend payments for up to a year with no adverse effects.
What it means – The Federal National Mortgage Association, the Federal Home Loan Mortgage Corp, and the Federal Housing Authority don't make home loans. They either purchase existing mortgages under certain guidelines or insure repayment. The Federal Housing Finance Agency issued guidelines that allow the housing giants, which control around 70% of all mortgages in the country, to give homeowners some breathing room. This will stave off a wave of foreclosures due to unemployment and give mortgage-backed bond investors confidence to stay involved. This assurance is extremely important in resolving recent liquidity issues in the market.
Apple Announces Plan to Reopen Stores as Conditions Allow…The retail electronics giant is following the steps of Starbucks and others that have reopened across China and are looking at other markets.
What it Means – President Trump took heat for talking about reopening the country in short order, but his point isn't lost on business owners. They need clients as quickly as possible.
Trump's staff put a finer point on it. Few people want to throw the doors open, but in places barely touched by the virus, or where the spread appears to have peaked and is falling, regional authorities should be considering how, and when, to reopen businesses and public places in an orderly manner. This will give consumers and businesses something to look forward to which can provide a lot of comfort while many are stuck in their homes.
Chinese High School and College Students in U.S. Paying $20,000 to Secure Seats on Private Jets Home… The story portrayed Chinese students stuck in cities under shelter-in-place orders as worried about contracting SARS-CoV-2 while studying here even though the outbreak started in their home country.
It's ironic and doesn't seem plausible. If you're a foreign student studying here, and can afford a $20,000 plane ride home, chances are you're much more interested in how you spend your free time than anything else. Why choose to stick around the U.S. when your classes have been moved online and you can't go out? Have your parents pony up for an expensive plane ride, do your classes online from your home country, and still have the freedom to move about.
Money might not be able to buy happiness, but sure can make things more convenient.