Inflation Dipped, But Not Much…The Consumer Price Index eased 0.2%, from 8.5% to 8.3%, less than the expected 0.4% drop.
What it means— Fed Chair Powell gave the markets a shot in the arm last week, when he seemed to rule out a 0.75% rate hike. The hotter-than-expected inflation numbers put such a move back on the table and drove the equity markets lower. Prices rose almost across the board, with air fare jumping more than 18% for the month, the largest gain since records began in 1963. Used car prices were the one bright spot, with prices down 0.4% for the month but still up more than 22% over this time last year.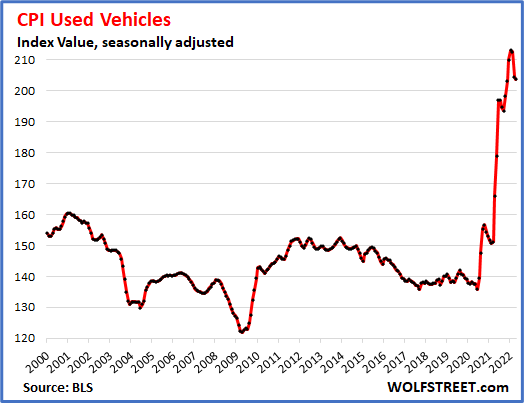 Gasoline prices also fell last month, down 6.1%, but that's old news, as oil and gas prices have been on the rebound in May, with the price at the pump reaching a record high of just pennies from $4.50 per gallon. $5.00 isn't far away. Even with energy prices moving higher and food prices elevated, annual inflation likely will ease in the months ahead as we compare current prices with the rising prices of last year, the so-called base effect. But that doesn't mean relief. For consumers to get a break, prices either would have to fall, which is deflation, or at least rise at a much slower pace. Don't  count on it.
With the continued turmoil in food and energy caused by the Russian invasion of Ukraine, the labor shortage, and rising rents, inflation likely will remain stubbornly high for at least the rest of this year.
Ten-Year Treasury Yields Peak Over 3.1%, Then Retreat… The 10-year Treasury yield breached 3% but didn't stay up there for long. After touching 3.12%, the yield dropped below 2.85%.
What it means— It's the economic version of the children's book "If You Give a Mouse a Cookie," where each action leads to  something else—only with a twist. If the war in Ukraine and labor shortages continue, then inflation will remain elevated.
In the  face of higher inflation, the Fed will have to raise rates faster than anticipated to maintain credibility. When the Fed raises rates quickly, it will precipitate a recession. The economic contraction will force the Fed to reverse course, which will bring down long interest rates.
While this logic might be leading domestic bond investors to buy long Treasury bonds, international investors are following a different line of reasoning. The war in Ukraine is disrupting food and energy supplies, driving up bad inflation (not tied to domestic growth) even as GDP growth sputters across Europe and in Asia.
It's unlikely that central bankers will raise rates in the face of weak growth and higher prices, which will lead to falling values in foreign currencies compared with the U.S. dollar. By purchasing Treasury bonds, international investors can pick up more yield and possibly a little gain on the exchange rate. With the U.S. dollar at 20-year highs, this is a dangerous game for foreign investors. If the dollar rolls over, they might lose enough on the exchange rate to wipe out the extra yield they picked up.
Diesel Is the Thing, With Prices Up Almost 80% Over Last Year… Diesel costs more than $5.50 per gallon and is up more than $2.70 over this time last year.
What it means— U.S. energy companies slowly reduced their middle distillate refining capacity over the last two decades, leaving foreign refiners like Russia to fill the gap. The economic rebound after COVID led to a surge in demand for diesel that collided with the supply shock from the war in Ukraine. Supplies in the U.S. are well below average for this time of year and reaching a critical state on the East Coast. It's conceivable that we will see supplies run out in some locations over the next several weeks as energy companies scramble to move inventory around the nation. Diesel fuels large trucks, railroad engines, farming equipment, and more. Higher diesel prices push up inflation, while diesel outages can lead to supply chain  disruptions.
New Bronx Housing Development Comes with Its own 'Stomach'… The Peninsula in the Bronx will have 740  apartments, 15,000 square feet of retail space, 50,000 square feet of light industrial space, and 50,000 feet of green space. It also will have an industrial composting machine that will "digest" foodstuffs recycled by the residents. With food representing 30% of landfill volume, this could lead to a significant reduction in trash if it becomes widely accepted.
In New York, it also could help with another problem. The city of almost nine million people has a rat population of at least 70 million. The less food that gets thrown to the curb, the less for the rats to eat. The project would create fertilizer to be used on the green space. It's a great concept, but only if the residents go to the trouble of separating their food trash for recycling.
Alternatively, the developer could have put garbage disposals in the apartments removing much of the rat food problem.
Data supplied by HS Dent Research
"When the facts change, I change my mind.
What do you do?" ~ John Maynard Keynes
Our plan is "the plan will change."
What is your plan?
Relative strength measures the price performance of a stock against a market average, a selected universe of stocks or a single alternative holding. Relative strength improves if it rises faster in an uptrend, or falls less in a downtrend. It is easily applied to individual positions in your portfolio and to sectors and asset classes.
A copy of our form ADV Part 2 is available online.
Investor Resources, Inc. only transacts business in states where it is properly registered or notice filed, or excluded or exempted from registration requirements. Follow-up and individualized responses that involve either the effecting or attempting to effect transactions in securities, or the rendering of personalized investment advice for compensation, as the case may be, will not be made absent compliance with state investment adviser and investment adviser representative registration requirements, or an applicable exemption or exclusion.