Biden Selects Yellen for Treasury, Markets Soar… Investors cheered not only the third potential vaccine for COVID-19, but also Biden's pick for Treasury Secretary, ex-Federal Reserve Chair Janet Yellen.
What it means— Collusion isn't a bad thing, as long as it goes in your favor. Yellen at Treasury raises the possibility of much closer coordination between the federal government and the central bank, which is beginning to look like the Treasury Accord from the '40s and early '50s. Perhaps Barbara Streisand will sing at the inauguration.
"Memories light the corners of my mind
Misty water-colored memories of the way we were
Scattered pictures of the smiles we left behind
Smiles we gave to one another for the way we were
Can it be that it was all so simple then
Or has time rewritten every line
If we had the chance to do it all again
Tell me, would we?
Could we?…"
If the government "persuades" the Fed that it's in the nation's best interest to keep rates really low for, well, ever, then the national debt can expand almost to infinity, because the net borrowing cost will be minimal.
This gives the federal government license to hand out cash, which should fund the next stimulus package, an infrastructure deal, possible increased retiree benefits, and anything else they can think of, unconstrained by budget concerns.
With interest rates in the cellar, investors will train their focus on equities, driving up stock prices. If the system sounds convoluted, that's because it is. If you get in front of it, the process could be very profitable.
It will be especially good if you are part of the upper fifty percent. The lower half of our population doesn't own enough equities to benefit.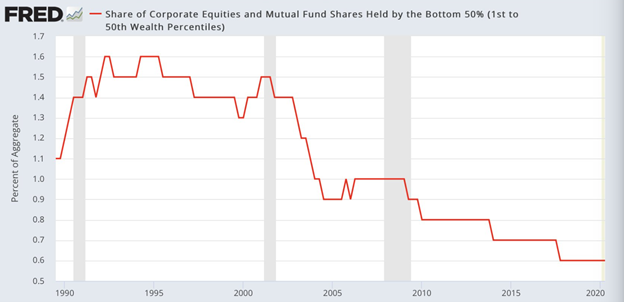 Initial Jobless Claims Rise Again, From 742,000 to 778,000; Continuing Claims Also Rose, From 20.32 Million to 20.45 Million… Once again, initial claims surprised to the upside.
What it means— Jobless claims have remained frustratingly high, reflecting the current balance in the jobs market, as service providers deal with renewed lockdown measures. Every day that goes by brings us closer to the end of benefits for millions of Americans at the end of the year, which puts pressure on Congress to pass some sort of continuing stimulus plan.
If they don't, it will be a very ugly New Year, even if we have a vaccine and therapeutic available.
New Home Sales Take a Breath and Are Mostly Unchanged in October… New home sales stayed at an annual pace of 999,000 units last month, essentially the same level as September.
What it means— While the number might look like new home sales are resting, instead they plateaued for the month at a very high level. Sales are 41.5% higher than at this time last year, while the median sale price clocked in at $330,600. Those are great numbers for builders… if they can keep up. Rising costs, including land, lumber, and labor, are crimping the business, even as more units go out the door.
Expect the supply of existing housing to increase in the coming months as six million households are expecting to be foreclosed or evicted from their homes when the CDC payment suspension ends in mid-December.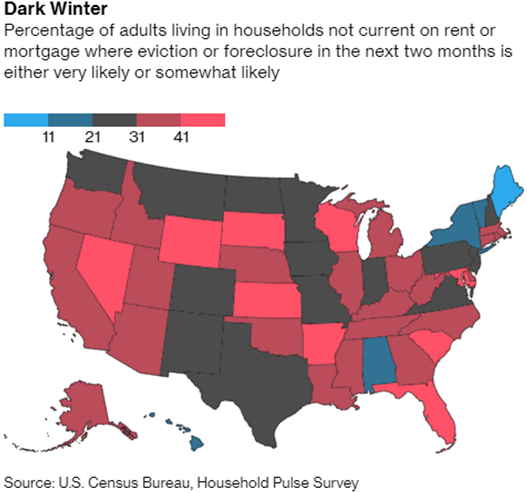 Durable Goods Orders Up 1.3% in October, Beating the 0.5% Forecast… Core capital goods orders rose a more modest 0.7%.
What it means— Last month it was all about the government. Once defense spending is stripped out, durable goods orders rose just 0.2%. Auto orders fell 3.2%, and commercial plane orders also dropped. On the plus side, while core capital goods, a proxy for business spending, rose just under 1%, such orders are 6.2% higher than at this time last year, rising at the fastest annual pace for the last 18 months. In the overall economy, manufacturing is back. Now we need services to rebound.
Tesla Ranks Next to Last in the Consumer Reports Reliability Ranking… The ultracool electric car company fell to number 25 out of 26, beating only Lincoln. Tesla recalled 9,500 cars for cosmetic to safety issues.
What it means— Everything from failing electronic cabin controls to paint issues, sagging bumpers in rainstorms and failing steering controls weighed on Tesla's reliability.
So far, that hasn't stopped buyers from taking delivery of the cars, but it does raise the possibility that if more reliable electric vehicles from competitors hit the streets over the next few years, Tesla could find itself fighting for market share.
Gotta Love the Irish: They Beat the Pub Closing by Going to the Airport … A group of Irishmen who often gather to raise a few pints were disappointed to find their pubs closed by the Irish national lockdown. Then they realized the edict did not apply to every drinking establishment. Airports are exempted, because they fall under the essential services carveout.
Seeing an opportunity, the men each purchased a $10 ticket to fly from Dublin, arrived at the airport, made their way through security, and then went straight to the airport bar. They never got on the flight but thoroughly enjoyed their time together. Unfortunately, they also posted their adventure online, and airport officials were not amused. They said purchasing tickets that you don't intend to use violates the travel rules. Apparently, the Grinch arrived early in Ireland.
Data supplied by HS Dent Research
"When the facts change, I change my mind.
What do you do, sir?" ~ John Maynard Keynes
Our plan is "the plan will change."
What is your plan?
Relative strength measures the price performance of a stock against a market average, a selected universe of stocks or a single alternative holding. Relative strength improves if it rises faster in an uptrend, or falls less in a downtrend. It is easily applied to individual positions in your portfolio and to sectors and asset classes.
A copy of our form ADV Part 2 is available online.
Investor Resources, Inc. only transacts business in states where it is properly registered or notice filed, or excluded or exempted from registration requirements. Follow-up and individualized responses that involve either the effecting or attempting to effect transactions in securities, or the rendering of personalized investment advice for compensation, as the case may be, will not be made absent compliance with state investment adviser and investment adviser representative registration requirements, or an applicable exemption or exclusion.