Next Relief Package Is On Again, Off Again… Senate Majority Leader McConnell said the Senate will vote on a small package, while President Trump said he would agree to more than $1.8 trillion.
What it means— Investors are getting whipsawed by the politics of the next relief effort. No one seems to doubt that we'll spend hundreds of billions, if not trillions, more on the next leg of relief to support businesses, unemployed workers, and even cities and states. It's just a question of how much and when.
A small but solid group of Senate Republicans doesn't want to vote for more spending ahead of the election, but Trump wants to get something done to boost his standing. The skinny bill discussed by McConnell simply spends some unused funds from the last relief package.
Weekend headlines generated optimism for Monday's market that a deal is a possibility, again. The back-and-forth rhetoric is creating schizophrenic stock prices, which seem to hang on every word. The same is probably true of small business owners, unemployed workers, and city administrators around the country. It seems like our politicians are "fiddling as Rome burns."
The Dow Jones Index is near all time highs… The index is no longer just industrials. The current components generate a mixed bag of economic news.
What it means— United Parcel and Fed Ex are 25% of the index and prospering due to high Covid-19 related demand for delivery services. Airlines in the index are a drag as they struggle with a lack of passenger fares causing a substantial drain on cash reserves. Trucking and rail are the bulk of the index where demand for services has been insufficient to cause pricing to rise back to pre-recession levels.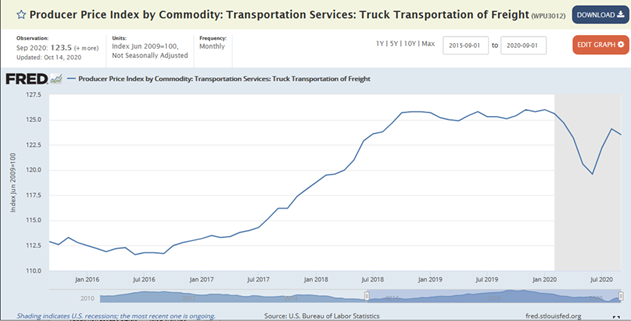 Initial Jobless Claims Move Up From 825,000 to 898,000… Continuing claims from all programs dipped slightly, but remain just over 25 million.
What it means— It feels like we're settling in to a new routine. The huge jump in Amazon Prime Days spending over last year shows that we're redirecting our spending from in-person to online at a faster pace, which is certain to take a huge chunk out of brick-and-mortar retail sales this holiday season.
It's hard to see how many malls around the country will survive if we go through the full holiday season with pandemic restrictions in place. As those businesses fail, millions of entry-level jobs will be wiped away forever. Even if we reopen the economy completely tomorrow, many of the lost jobs won't return. We need a plan for putting millions of people back to work. So far, no one has proposed a solution.
Retail Sales Jump 1.9% in September, Up 5.4% Over September 2019… Core retail sales, excluding food, autos, building materials, and gas, soared 9.1% over the past year, the biggest gain in history.
What it means— Welcome to a world where we have limited access to services, so we turn our attention to buying stuff, or at least that's what we did last month.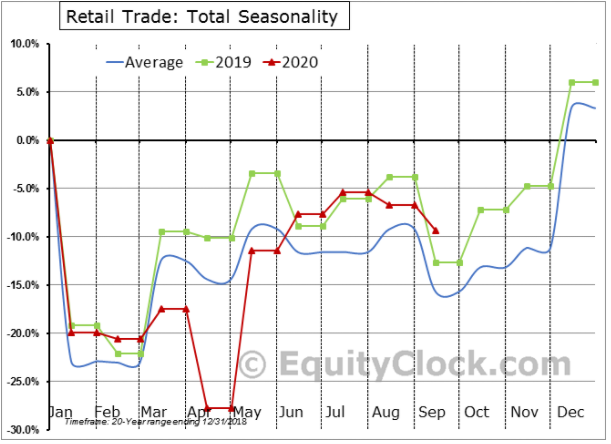 Every corner of the market, excluding electronics and appliances, which soared during the summer, enjoyed gains in September. Even clothing and clothing store sales increased 11%, although they remain down 12.5% over last year. On that note, sales at food service and drinking places, which increased by 2.1% last month, remain down 14.4% over last year. The numbers show that many of us remain employed and eager to spend, which could mean at least modest gains for the holiday season.
Inflation Moved Up at Slower Pace, Increasing by 0.2%…Prices are now 1.4% higher than last year, and core inflation, which also expanded by 0.2% in September, is up 1.7% over last year.
What it means— Prices were pretty tame in September, as long as you weren't trying to buy a used car or truck. Used vehicle prices jumped 6.7% last month, the biggest monthly increase since 1969. It was all about inventory. With new car production on hold for a couple of months and consumers not trading in vehicles or driving as much, there simply wasn't much inventory around to meet rising demand as urban dwellers moved to the suburbs and needed cars.
Oddly, even though we experienced a squeeze in vehicles, gasoline prices fell as producers moved to bring more oil to the market.
The Air Is Getting Cleaner as Global Emissions Drop at Historic Rate…A new study in the journal Nature Communications showed that global emissions dropped 8.8% in the first six months of the year, the biggest percentage drop as well as the largest absolute drop in history.
What it means— A warmer winter in the northern hemisphere at the start of the year is responsible for a bit of the drop, but the bulk of it happened because of the economic shutdown following the pandemic.
Now we know that to lower emissions quickly, we simply need to throw the world into economic chaos, put millions of people out of work, put millions of people at risk of starvation, and drive around 100 million more people into extreme poverty. Let's hope we find another way to achieve lower emissions.
Data supplied by HS Dent Research
"When the facts change, I change my mind.
What do you do, sir?" ~ John Maynard Keynes
Our plan is "the plan will change."
What is your plan?
Relative strength measures the price performance of a stock against a market average, a selected universe of stocks or a single alternative holding. Relative strength improves if it rises faster in an uptrend, or falls less in a downtrend. It is easily applied to individual positions in your portfolio and to sectors and asset classes.
A copy of our form ADV Part 2 is available online.
Investor Resources, Inc. only transacts business in states where it is properly registered or notice filed, or excluded or exempted from registration requirements. Follow-up and individualized responses that involve either the effecting or attempting to effect transactions in securities, or the rendering of personalized investment advice for compensation, as the case may be, will not be made absent compliance with state investment adviser and investment adviser representative registration requirements, or an applicable exemption or exclusion.