Spending Measure Passes, But Remaining Debt Ceiling Issue and Taper Talk Sink Markets… The House passed a continuing resolution to authorize spending through December 3, avoiding a government shutdown at midnight on September 30, but other issues remain.
What it means— Democrat Congressmen appear to be stuck in a circular firing squad, and Republicans are doing their best to keep it going. Progressive representatives held up a vote on the bipartisan infrastructure bill to force a vote on Biden's $3.5 trillion spending package. In the background, the debt ceiling limit still looms and Republicans in the Senate won't give Democrats the ability to hold a simple up/down vote. Republicans want to force the Democrats to raise the debt ceiling on their own through a reconciliation vote. It's all theater. The spending and additional debt in question pay for items that Congress approved in the past. If we do default on a debt payment, it will be by choice, not necessity.
At the same time, it looks like the Fed might buy fewer bonds starting in December, as economic indicators point to strong orders and higher prices. The Fed's "transitory" inflation is sticking around a lot longer than the central bankers anticipated, which might force their hand.
The Fed's data suggest "transitory" may mean five or more years. Consumers are not waiting but spending now before prices rise even more.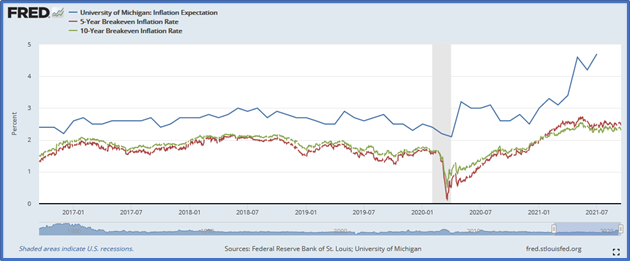 The combination of the Congressional impasse and potentially rising interest rates made equity investors a bit jittery. The major indices fell for the quarter, as they posted their worst week since last October.
Most investors rely on a 60/40 balanced portfolio for risk management. However, the most commonly used portfolio generated the worst losses in September since March 2020.
Durable Goods Orders Up 1.8% in August… Orders for July were revised higher, from a 0.1% decline to a 0.5% increase.
What it means— We're still buying lots of stuff, or at least we want to. Airplane orders pushed the numbers higher, as Boeing received more business as travelers returned to the skies, but businesses also placed more orders. Non-defense orders excluding aircraft rose 0.5% and would have been higher if manufacturers could get enough supplies to complete production. Auto sales, which are a major part of durable goods orders, are still hamstrung by the computer chip shortage. While durable goods orders are up 24.7% over the last year, shipments are up just 14.1%.
Chinese Developer Evergrande Prioritizes Domestic Repayments and Looks To Sell Bank Shares… The troubled developer made a domestic interest payment but failed to pay foreign debtholders.
What it means— The company has roughly $300 billion in debt and liabilities. Foreign investors are likely to recover little value, while Chinese investors will do much better. The company has prioritized delivering on pre-paid condo purchases and repaying investors who put money in Evergrande through wealth products, which are pooled investments. The firm also announced it will sell shares in a state-owned bank to raise cash. Evergrande is a lot of things, but it's not the next Lehman Brothers. The Chinese government will shield many investors from harm as the company liquidates, thereby easing the pain. Foreign investors might cry foul, but it won't matter.
The U.K. and Europe Face Rising Electricity Prices and China Has Rolling Blackouts… Moves to reduce greenhouse gas (GHG) emissions by relying on renewable energy in Europe and using less coal in China have squeezed power supply in the face of rising demand.
What it means— As the winds in the North Sea calmed, wind farms generated less electricity, which led to outsized demand for natural gas. Unfortunately, several natural gas fields in the region have shut down to reduce GHGs.
Chinese authorities limited the mining of domestic coal and imports from Australia, which has crimped electricity supply at a time of high demand from manufacturers. The government has instructed electricity companies to take whatever measures are necessary to keep the lights on, but it's not clear they can. In Europe, in addition to gasoline shortages, the price of natural gas is up 500% over the last year. Now prices are rising in the global market. In China, manufacturers are paying up for electricity, which is increasing costs for their goods. Both trends are feeding global inflation, as consumers continue their durable goods buying spree.
Oil and natural gas are feed stock for most every durable item we purchase. The higher costs are being passed on to consumers.
Massage Parlors Offering Sex Services in New York City Outnumber Starbucks 2 to 1… Heyrick Research, a data analysis firm dedicated to fighting sex trafficking, estimates that there are at least 629 massage parlors in the Big Apple offering more than massages, which is more than twice the number of Starbucks locations in the city. The number is especially high in Queens, where such establishments outnumber Starbucks 5 to 1. The company finds massage parlors offering illicit services by trolling review sites where customers discuss exactly what takes place.