President Trump Catches Coronavirus… Presidential advisor Hope Hicks tested positive for coronavirus on Thursday, and then the White House reported overnight that both President Trump and First Lady Melania Trump tested positive.
What it means— Let the scenario-building begin! Apparently, the president is showing mild symptoms, but at 74 years old and overweight, he's definitely at risk of a poor outcome. The most likely outcome is that Trump recovers within two weeks. If he doesn't, then the political landscape could look much different with candidate Pence on the ticket. News of the president's infection sent the world into a Twitterfest and sent the markets lower. Investors might like or dislike the president; either way, he's a known quantity. Investors don't like uncertainty. The markets are likely to remain unsettled until the president's illness is over.
The U.S. Economy Created 661,000 Jobs in September… The unemployment rate unexpectedly dipped below 8%, falling from 8.4% to 7.9%.
What it means— The jobs number came in a bit below expectations, but the unemployment rate surprised to the upside. This can be explained by one thing: fewer people in the labor force. While the trends show a steady, if slowing, recovery, we still have this huge issue of millions of people with nowhere to work. The total number of workers in non-farm employment last month was 7% lower than the total in February, which equates to 10.7 million people. Seasonally adjusted, this is the weakest data since 1945.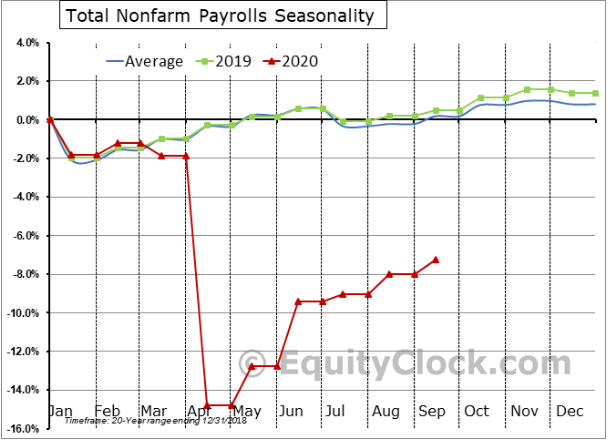 Initial Jobless Claims Remain Elevated, Are Above 800,000…Initial jobless claims remain stuck around 840,000 per week. Continuing claims across all programs increased from 26.04 million to 26.53 million.
What it means— The last 5% of the unemployed will be the hardest people to absorb into the economy while we're still on lockdown. This becomes obvious, once we consider that restaurants in many cities remain capped at 50% of capacity. Tourism has not returned. Sporting events occur with few or no fans, and festivals of all kinds have been canceled. You know things are tough when the Brazilians cancel Carnival.
We've dramatically curtailed services and displaced the workers who provided those services. There aren't enough professional or goods-producing jobs available to employ all of them, at least in the short term. Unemployment will remain elevated for as long as vestiges of the lockdown remain in place.
The House Considers $2.4 Trillion Relief Package… Speaker Pelosi is working with House Democrats on a new relief package, but she is trying to get an agreement with the administration before bringing the measure up for a vote.
What it means— More than a few Republicans in the Senate don't support a relief bill of more than $1 trillion, but the administration has signaled support at $1.5 trillion. It will be interesting to see if anyone compromises so close to the election.
It's likely that Congress eventually will pass another round of spending that will include the federal unemployment weekly bonus payment, relief for the U.S. Postal Service, and probably some aid money for cities and states. Expect the markets to react favorably when that happens.
Retail Bankruptcies on Pace for Record in 2020… BDO USA, LLP, reports that 29 retail companies filed for bankruptcy through August, more than the 22 that failed during all of 2019, putting us on pace for more bankruptcies due to the pandemic and lockdown than occurred during the Great Financial Crisis.
What it means— Chances are that you won't miss retailer Lord & Taylor. You might have fond memories of perusing the stores, but the numbers prove that most of us haven't shopped there in a long time. We find our goods elsewhere. But, as with many retailers that are going under, it's not about consumers losing access to products, it's about lost jobs, lost rent, empty storefronts, falling tax revenues, and a host of other knock-on effects. About 9,500 retail locations closed in 2019, including both companies that went under and those that just scaled back operations.
Roughly 10,000 retail locations have closed so far this year, and as many as 25,000 ultimately could close their doors. That's a lot of commercial space going dark.
Lockdowns were never justified, either in terms of the covid-19 risk or the staggering economic tradeoffs, which will be felt for decades. — Jeff Deist, The Mises Institute
Regardless, NYC is starting another round of shutting business and schools in Brooklyn and Queens. As long as high population states keep business activity restricted, the touted "V" recovery cannot occur. We covered some of the related data and implications in this weekend's market update webinar.
The First Presidential Debate Is Over: Was There a Winner?… President Trump and challenger Joe Biden debated, but the event did not provide insight, it was just sparring among the two of them and the moderator, Chris Wallace.
What it means— It was hard to declare a winner, although perhaps Joe Biden gained an edge because he showed up, and stood up, for 90 minutes. That will quiet, if not dispel, worries that his faculties are slipping. Beyond that, it was a verbal slugfest. The first casualty was decorum, although the truth took many blows as well. It's unlikely that the event changed many minds or attracted many undecided votes to either side.
With Biden still holding consistent, if not huge, leads in the swing states, this looks like his race to lose.
The panel that controls presidential debates promised more rules for the next go 'round. Maybe we should dispense with microphones and give them boxing gloves instead. On a side note, Case Western Reserve University, which hosted the event, set up a "safe space" for students, faculty, and others connected to the school who might have been traumatized or otherwise disturbed by the debate. Maybe we all need a safe space after that debate.
Dutch Startup Finds a Way for the Dead to Live Forever…
 Woody Allen famously said that he doesn't want to achieve immortality through his work. Instead, he just wants to live forever, preferably in his apartment. While a Dutch company can't grant Allen's wish, it does give people a way to bond their bodies with nature. The new firm, cleverly called Loop, replaces a traditional casket made of wood or metal with one made of fungus, specifically mycelium, the vegetative part of mushrooms. The company grows the fungus, forms it into a casket shape, and then dries it. When the process is complete, the casket will hold up to 400 lbs. Using the dried fungal casket dramatically hastens the decay process, reducing the time it takes for a body to decay from 10 to 20 years down to just 24 months. To speed up the process, the firm includes a bed of moss inside the coffin.
As the body decomposes, it feeds the soil. Anyone so inclined can add seeds to their coffin, thereby choosing what sort of plant they will become part of during the process.
Data supplied by HS Dent Research
"When the facts change, I change my mind.
What do you do, sir?" ~ John Maynard Keynes
Our plan is "the plan will change."
What is your plan?
Relative strength measures the price performance of a stock against a market average, a selected universe of stocks or a single alternative holding. Relative strength improves if it rises faster in an uptrend, or falls less in a downtrend. It is easily applied to individual positions in your portfolio and to sectors and asset classes.
A copy of our form ADV Part 2 is available online.
Investor Resources, Inc. only transacts business in states where it is properly registered or notice filed, or excluded or exempted from registration requirements. Follow-up and individualized responses that involve either the effecting or attempting to effect transactions in securities, or the rendering of personalized investment advice for compensation, as the case may be, will not be made absent compliance with state investment adviser and investment adviser representative registration requirements, or an applicable exemption or exclusion.